This post may contain affiliate links. Please read my disclosure for more info.
---
Carrying a heavy vacuum around the house is not great for your back, especially if you have stairs. Robot vacuums are self-propelled, which seems like a better option. However, you'll still need to lift or carry them every once in a while.
Most Roombas weigh 6.7–8.7 pounds. That does not include the base or any accumulated dirt, which may add up to another pound. The Roomba 692 is the lightest current model, and the Roomba 981 is the heaviest.
In this article, we'll dig into how much Roombas weigh and compare the current Roomba models to the weights of other popular robot vacuums. But first, we'll explain why you should care about the weight of your Roomba.
Why Does Roomba Weight Matter?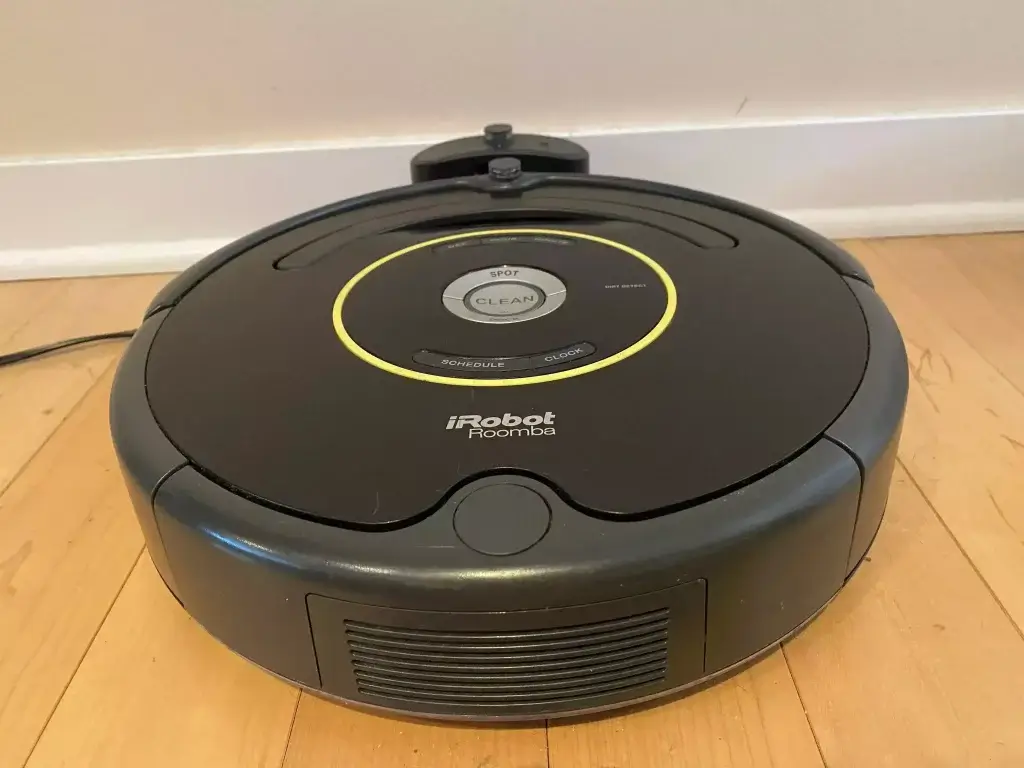 Sometimes, you need to pick up and move your Roomba. That's especially true if you want to use a Roomba on multiple floors. Carrying a heavy vacuum up and down stairs is just not a fun experience, especially if you have to do it multiple times a week.
You may also need to carry your Roomba to place it for spot cleaning. Some high-end Roombas have a smart mapping feature that allows you to use an Alexa Roomba voice command (or in-app command) to specify a location for spot-cleaning. But lower-end models can only spot-clean if you carry them to the spot.
Lastly, you'll have to flip your Roomba over for maintenance. Every Roomba will need this work eventually, even the ones that have self-emptying bins. Brushes will eventually need replacing, and hairs can still get caught in even the most well-designed roller.
How Much Do Roombas Weigh?
Roombas weigh between 6.7 and 8.7 pounds. The lightest-weight model is the Roomba 692, and the heaviest is the Roomba 981. A full dust bin may add about 1 pound to the total weight.
The table below shows weights for all the common Roomba vacuums and Braava mops. These weights don't include the base station or self-emptying bin. Standard Roomba base stations weigh about 0.75 lbs. and self-emptying bins weigh 10–12 lbs. when they are empty.
How Much Do Other Robot Vacuums Weigh?
Most robot vacuums are between 5 and 11 pounds. Vacuums with more suction, more features, or dual vacuum/mopping functionality are usually 8–11 pounds. The lightest vacuums tend to have less suction and few features.
This table shows the weights of some of the most popular robot vacuums. As with the Roomba weights, these include only the vacuum, not the base station or self-emptying bins.
Frequently Asked Questions
What is the lightest weight Roomba?
The Roomba 692 is the lightest of the current Roomba models. It weighs just 6.77 pounds, which is 0.5–1 pounds lighter than the i-series and e-series Roombas.
What is the lightest weight robot vacuum?
The Eufy 11s is the lightest—and one of the smallest—robot vacuums you can currently buy. It weighs 5.5 pounds, a full pound lighter than the Roomba 692.
What is the heaviest Roomba?
The Roomba 981 weighs 8.7 pounds, making it the heaviest Roomba of the most recent models. The S9 comes in second at 8.15 pounds, and all the other current Roombas are under 8 pounds.
What is the heaviest robot vacuum?
At 10.36 pounds, the Roborock S7 is the heaviest consumer robot vacuum. Most other robot vacuums are under 9 pounds, so the weight of the S7 is far outside of the norm. For that weight, though, you get a combination vacuum and mop with incredibly powerful suction.
What's Next?
If you're looking to buy a robot vacuum, check out my comparison of the Shark IQ vs Roomba i3+. Those are two of the most popular mid-tier robot vacuums, so they are solid picks for most smart homes.
If you're going to add a robot vacuum to your home, now is also a good time to look into a smart home speaker that can issue commands to your vacuum. It's just helpful to have the ability to issue voice commands to your Roomba, especially when you have a spill and your hands are full.
I'd suggest checking out Amazon Alexa because of the low price of Echo devices, their powerful interfaces with popular smart home devices (like Roomba and Shark), and because of how easy Alexa is for beginners. Oh, and this site is a great resource for Alexa users. We have easy-to-follow troubleshooting guides for when Alexa is not responding, when Alexa is offline, and a ton of other common issues.