This post may contain affiliate links. Please read my disclosure for more info.
---
Smart homes are not the cheapest hobby, but Alexa is one of the most affordable home assistants. So how much does Alexa cost?
The Alexa voice assistant is free to use, with no required subscriptions or fees. The only costs of having Alexa are the Echo or Fire TV devices (typically $20–100 each) you use it with and any premium services you subscribe to (music, security, etc.).
In this article, I'll break down all the costs of Alexa, including what you get for free, what requires a paid subscription, and how much a typical Echo device setup will cost. You'll even find a few of my favorite tips for saving money on your Alexa smart home.
Is There a Monthly Fee for Alexa?
There are currently no monthly fees or subscription costs for the Alexa voice assistant. You could download the Alexa app to your smartphone right now and try it out without ever spending a penny.
The most useful aspects of Alexa do require an Echo smart speaker or a Fire TV device, though. I'll cover the costs of these devices in a minute, but you can expect to pay around $20–100 dollars for most of them. The most expensive devices may cost you as much as $250.
What's Included With the Free Alexa App?
The Alexa app and Echo devices can do a lot without any added subscriptions or fees. They are constantly updating, but here's just a sample of what Alexa includes for free: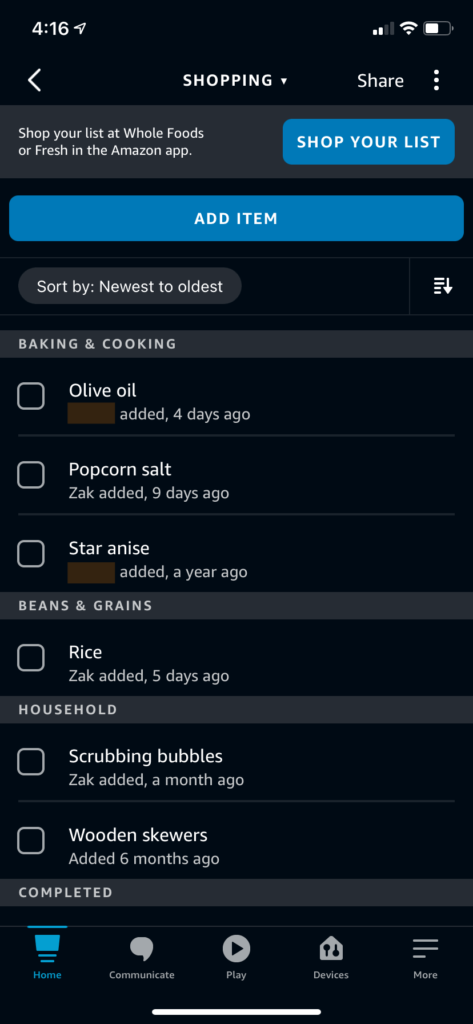 Shopping lists — You can add items and manage your lists by voice or in the app. Alexa organizes your list, alerts you of duplicate items, lets you share it by text, and even lets you easily purchase it all on Amazon.
Control of smart home devices — There's a growing number of devices that Alexa can control. With the recent addition of a Zigbee controller, Alexa is probably the most powerful voice-control smart hub on the market without a subscription fee.
Timers and alarms — Alexa's named timers are one of its best features for your smart kitchen. If you have multiple timers set, "Meatball timer is complete" is a lot more informative than your usual timer noises.
Notifications — Alexa tracks your Amazon packages and alerts you when they arrive. You'll also get notices about emergency events or severe weather.
News briefs and weather updates — Just ask Alexa for your morning briefing and you'll get some quick news snippets. You can also ask her for weather forecasts when you're preparing to head out.
Questions and answers — Alexa has programmed responses and the ability to answer numerous types of questions based on web data. Some of my favorites are measurement conversions while cooking and random celebrity facts.
Communications — Alexa can act as a home intercom, connecting you to your family members through Alexa-enabled devices. You can even make phone calls on Alexa or have her call your friend's Alexa devices.
What Do You Have to Pay for With Alexa?
Some Amazon Alexa skills (their name for apps) do require separate subscriptions. These are typically apps for security and monitoring services or music or video streaming providers.
An Amazon Prime subscription gives you access to Amazon Music, Amazon Prime Video, and other Amazon services on your Alexa device. This is not a required subscription, but you'll definitely get more out of your Alexa if you have Prime.
If you already subscribe to a streaming provider, access to their Alexa skills is generally free. With some music services, though, you may find that only the paid tiers work on Echo devices. For instance, only Spotify Premium subscribers can play use Spotify through Alexa.
Here are a few popular options and their typical price range:
Again, though, those subscriptions are all optional. There are no hidden costs of Alexa. Once you have your Echo device, you don't have to pay another dollar to use most of its functions and services.
How Much Do Alexa Devices Cost?
How much is an Echo speaker?
Echo devices serve as smart home hubs, the control center for your smart home devices. Every Echo device has the same basic control options, including the cheapest models at around $25. 
More expensive devices typically either have better sound quality (like the Echo Studio's awesome 3D audio) or a built-in touchscreen (like on the Amazon Echo Show). The Show's smart display makes it a much more versatile hub with features like video calling or security camera monitoring.
The newer generations of Echo devices are slightly more expensive, but the price difference is justified in terms of their capabilities and sound quality. For an extra $10–15 you are future-proofing your setup.
For example, the 4th-generation Echo has a built-in Zigbee hub, which can control even more smart devices without the need for extra equipment. And the 5th-generation Echo Dot has an accelerometer to allow new gesture controls.
09/28/2023 03:50 pm GMT
How much is a Firestick?
Firesticks are one of the cheapest smart TV options on the market, with a starting price of about $20–30. These devices are primarily meant for entertainment, but they also have full Alexa integration.
You get Alexa even with the cheapest Firesticks, but the Fire TV Cube is the only option that has a full Alexa speaker, effectively making it an Echo replacement. To communicate with a Firestick, you need to hold down a button on the remote or speak to a separate Echo speaker. The Fire TV Cube, on the other hand, can listen for voice commands and reply directly from the Fire Cube.
The most critical differences between Fire TV devices are the audio quality and 4K and HDR integration. The Fire TV Stick and Fire TV Stick Lite only have 1080p, whereas the Fire TV Stick 4K, Fire TV Stick 4K Max, and Fire TV Cube offer 4K and HDR.
Given the price difference, I'd opt for the regular Fire TV Stick if you don't have a 4K TV. If you care about video quality, though, I'd go with the Fire TV Stick 4K or Fire TV Cube.
The Fire TV Stick Lite also has lower video quality than the other devices and a less functional remote. To me, the Fire TV is worth the extra few dollars just for the convenience of having volume and TV power buttons on the same remote that controls your streaming services.
Finally, the primary difference between the Fire TV Stick 4K and Fire TV Stick 4K Max is performance. If you get frustrated with minor delays when loading an app, go with the Max. The small price difference is especially easy to justify if you plan on doing anything more than basic streaming (like running a Kodi or Plex server).
09/29/2023 09:35 pm GMT
Third-Party Alexa Devices
You don't need an Amazon-branded device to serve as your Alexa hub. They've licensed Alexa out to some other brands of smart speakers, including one of my favorite premium alternatives: the Sonos One.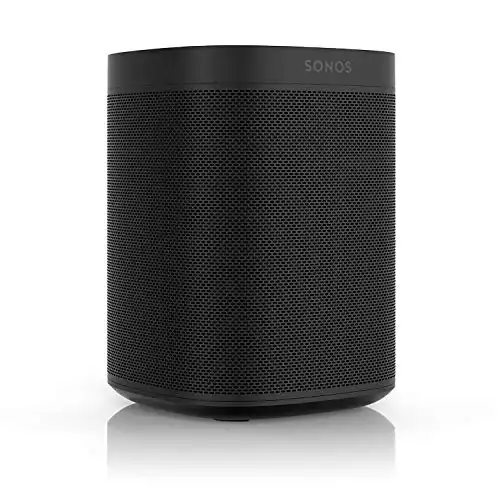 These alternative Alexa-compatible speakers tend to be more expensive than the Echo, but you are paying for the better sound quality. If you're looking for good sound quality and an Alexa hub all-in-one device, these options are incredibly convenient.
For a more budget option, though, you can just connect Echo to any Bluetooth speaker. Most Echo speakers, including the cheap Echo dots, have a 3.5 mm line-out port, too.
How Much Does Alexa Cost?
All of the above prices are for a single device. While that's a great starting point, most users will want to eventually install Alexa devices in several rooms for even more convenience and security.
Most smart home users will only use one of the $50+ devices in a central room (living room or kitchen) and use the $20–30 devices in other rooms.
A typical setup might look like this:
Echo Show in the main room ($50–100)
Echo dots in 2–3 bedrooms, garages, or other rooms ($50–150)
Firestick to enhance the living room TV ($20–50)
| Device | Price range |
| --- | --- |
| Echo Show in the main room | $50–100 |
| Echo dots in 2–3 bedrooms, garages, or other rooms | $50–150 |
| Firestick to enhance the living room TV | $20–50 |
| Total | $120–300 |
These prices are based on the Alexa devices alone. You'll probably want to expand your setup to include things like smart lights, smart plugs, and smart appliances in the future.
One of the great things about a smart home setup is that you can do this all incrementally. Your initial Alexa price can be as low as $20 to get started. From there, you can set aside a bit of money here and there or just splurge when you find something you would find really useful or cool.
What's Next?
Alexa's free app and low-cost device options make it a perfect starter system for smart home enthusiasts. Since it's easy-to-use and incredibly powerful, it's a device that can definitely grow with you as you build your ultimate home automation setup.
Looking for more Alexa and Echo info? If you want to get an idea of how easy Echo devices are to use, check out our step-by-step tutorial for connecting Alexa to Wi-Fi. And if you ever do have issues, be sure to bookmark our Alexa troubleshooting guide.