This post may contain affiliate links. Please read my disclosure for more info.
---
What's better than one speaker? Obviously two speakers. Sometimes, you want to bathe your entire house in music. Other times, you want a stereo speaker setup to fully immerse yourself in your favorite song or TV show. But can Alexa do that? Kind of.
You can't play music from Alexa and a Bluetooth speaker at the same time. You can, however, play music from multiple Echo speakers, combine two Echos into a stereo speaker setup, or split the aux output from Alexa to multiple speakers.
Why Can't You Play Alexa and a Bluetooth Speaker at the Same Time?
Alexa makes you choose a single audio device; there's no option to play sound from both the built-in speaker and a Bluetooth speaker at the same time.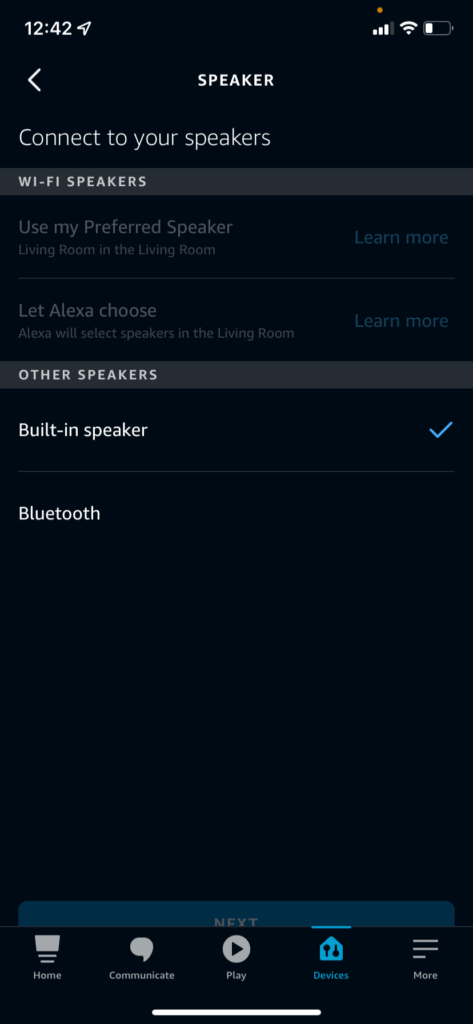 That's probably for the best, as Bluetooth audio introduces a slight delay. Your Bluetooth speaker would always be slightly behind your Echo, which would ruin the audio experience.
How to Play Music from Multiple Speakers with Echo
There are three ways to use your Echo for multi-speaker sound.
Alexa Multi-Room Music
Connect two Echos as a stereo speaker setup.
Use an aux splitter to connect multiple speakers to Echo.
We'll cover each of those methods in more detail below. Just pick the method that makes the most sense for your setup.
1. Play the Same Music on Multiple Echos
Given the convenience and low cost of Alexa devices, most of us have at least a couple of them by now. The Alexa app has a feature called Multi-Room Music that lets you play the same audio from some or all of your Echo and Fire TV devices.
You can find your current Multi-Room Music options under the Devices tab in the Alexa smartphone app. Scroll down to the bottom, and you'll see a section called Speaker Groups. By default, there is an Everywhere group that uses all of the Echo and Fire TV devices registered to your account.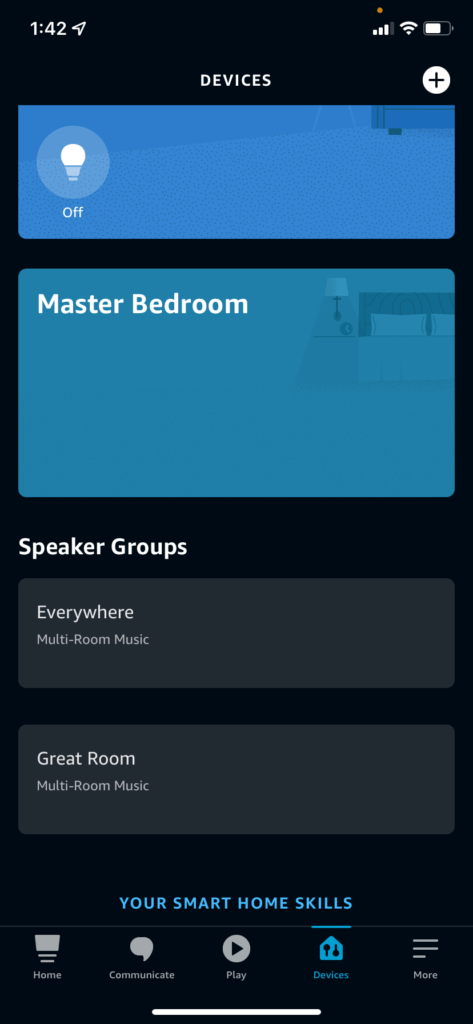 You can try out Multi-Room Music now with any of your Alexa music skills. Try saying, for example, "Alexa, play The Beatles everywhere." Assuming you've already set up a music service, this will play Beatles songs on all of your devices. Otherwise, Alexa will tell you how to set up the appropriate skill.
You can set up additional Multi-Room Music groups using these steps:
Go to the Alexa Devices tab.
Click the plus sign in the upper-right corner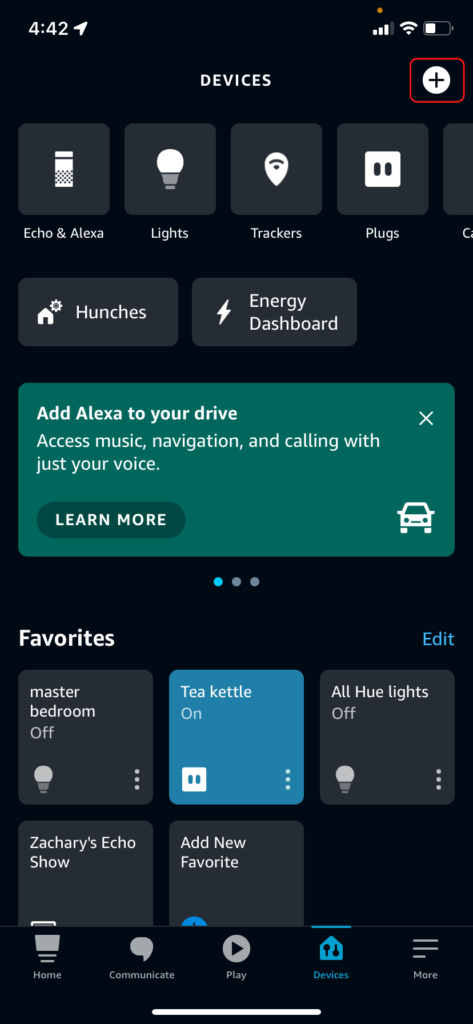 Select Combine speakers.
Click Multi-room music.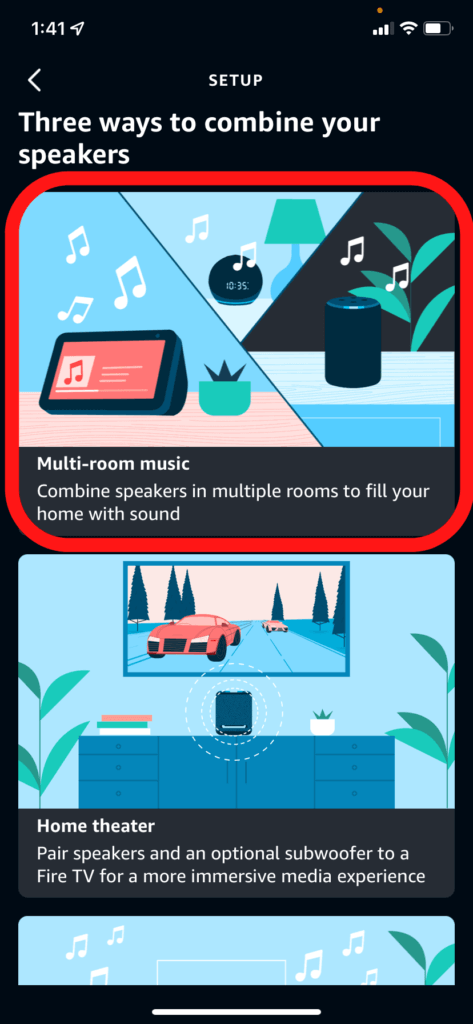 Select all of the speakers you want included in your new group then click Next in the upper-right corner. You need to choose at least two devices.
Type in a name or use one of the default group names then click Save.
Now, you should see the newly created group in your Speaker Groups list right below the Everywhere group. You can play music on your new group by saying, "Alexa, play [music choice] on [speaker group]." For instance, I could play Queen on my Great Room group by saying, "Alexa, play Queen on Great Room."
2. Use Two Echos as a Stereo Pair
Multi-room music is a mono setup. Each speaker plays exactly the same sound. That's great for expanding the range of your music, but it doesn't provide the same experience as a stereo speaker setup. Fortunately, the Alexa app also has this function.
Stereo pairs appear in the Speaker Group section at the bottom of the Devices tab, just like Multi-Room music groups. There isn't a default stereo pair, though, so you'll need to create one.
In the Devices tab, click the plus sign in the upper-right corner, then press Combine speakers just like you did for Multi-room music. This time, though, you're going to select Stereo pair / subwoofer.
There's a pretty big limitation for Echo stereo pairs. Where Multi-room music could use any combination of Echo speakers, Stereo pairs only work if the two speakers are compatible. Amazon has a full compatibility list, but generally, your two speakers will need to be the same type and generation. For example, you can use two 4th-generation Echo Dots together (even if one has a clock), but you can't use a 4th-generation Echo Dot with a 3rd-Generation Echo Dot or 4th-generation Echo.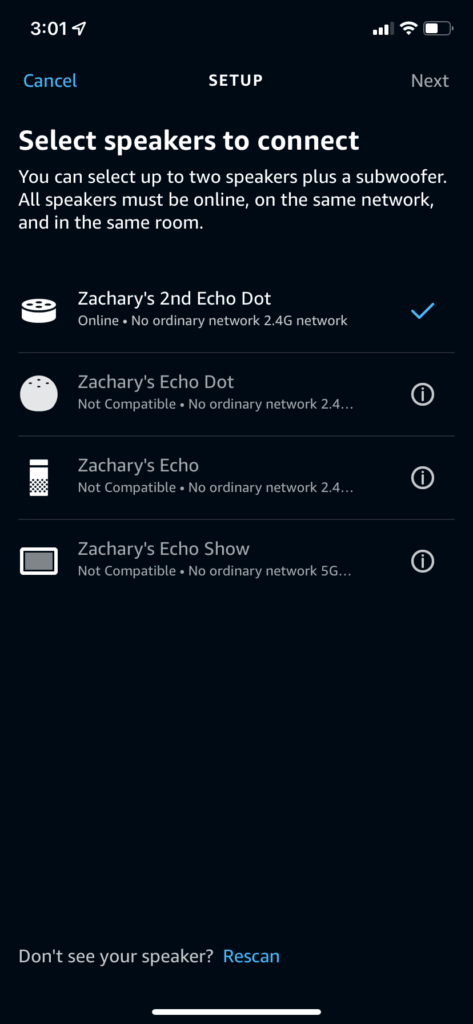 You can pair either two speakers or an Echo Sub and 1–2 speakers. The speakers and the subwoofer all need to be on the same network and in the same room. When you select one device for the group, the app will gray out any incompatible speakers.
You can play music on an Alexa Stereo pair exactly like you would for a Multi-room music setup. Just say something like "Alexa, play Kesha on Living Room Stereo"—using the name you assigned to the Stereo pair, of course.
In the same menu where you set up the Stereo pair, you can also connect the pair as a Home theater setup for your Fire TV. They just need to be in the same room as the Fire TV and on the same network.
3. Connect Echo to Multiple Speakers With an Aux Splitter
Smart speakers aren't known for their sound quality (well, unless you shelled out the extra bucks for the Alexa-enabled Sonos One). The latest 4th-generation Echos have pretty good sound quality, but you might still want a way to hook up your high-end speakers.
All recent Echo devices have aux out, so you can easily connect them to your favorite speaker. If you want to connect multiple speakers, though, you'll need an aux splitter (like this one for two outputs or this one for up to five speakers).
You may also need an aux adapter if your speakers don't have 3.5 mm aux input ports.
Frequently Asked Questions
Can Alexa connect to multiple Bluetooth devices?
Alexa can be paired with multiple Bluetooth devices, but it can only play music on one device at a time. If you want to play music on multiple speakers with Alexa, you'll need to use Multi-room music, Speaker groups, or an Aux splitter as described above.
Alternatively, you can try using a Bluetooth transmitter. You'll need to find a transmitter that can support multiple connections. I don't recommend this option since there is often some lag between the Bluetooth devices.
What's Next?
With your new Alexa speaker setup in full force, it's time to level up your entire audio or cinematic experience. Once you know how to connect Alexa to Bluetooth, you can use your Echo speakers for more than just Alexa Fire TV commands. Whether you have a regular smart TV or Android TV (or anything with Bluetooth output), a couple of Echo speakers are a great way to expand your sound system.
Oh, and did you know that you can sync your smart lights to your sound system? Neither did I until I came across Hue Sync while comparing Philips Hue vs Wiz lights. If you've got Hue lights, this feature is a fun addition to your audio setup.
Finally, I've been expanding my list of smart plug uses. It now includes some pretty cool ways to enhance your audio and home theatre systems, as well as some great ways to cut down your electric bill.