This post may contain affiliate links. Please read my disclosure for more info.
---
Multi-floor homes are great until it's time to clean them. With that much space, you'd love to just hand over the cleaning to Roomba. But can Roomba handle multiple floors?
Roomba can map and clean multiple floors, but it can't go up and down stairs by itself. With the proper setup, though, your Roomba can be a very effective way to clean your multi-floor home.
In this article, we'll detail how to use Roomba on multiple floors and which Roombas are best for multi-floor homes.
Can Roomba Go Up and Down stairs?
There is currently no robot vacuum, including Roomba, that can climb up or down stairs. Roomba treats a staircase like any other obstacle to be avoided. They even have cliff sensors to prevent falling down stairs.
That also means that Roomba won't clean the stairs themselves. Depending on the size of the steps, you might be able to carry Roomba from step to step and have it spot clean, but that's typically impractical.
These limitations will likely go away in the near future. After all, Roomba owners with multiple floors need a way to clean their entire home. Dyson, a Roomba competitor, recently filed a patent for a robot that could climb stairs using a triangular wheel assembly with an attached arm.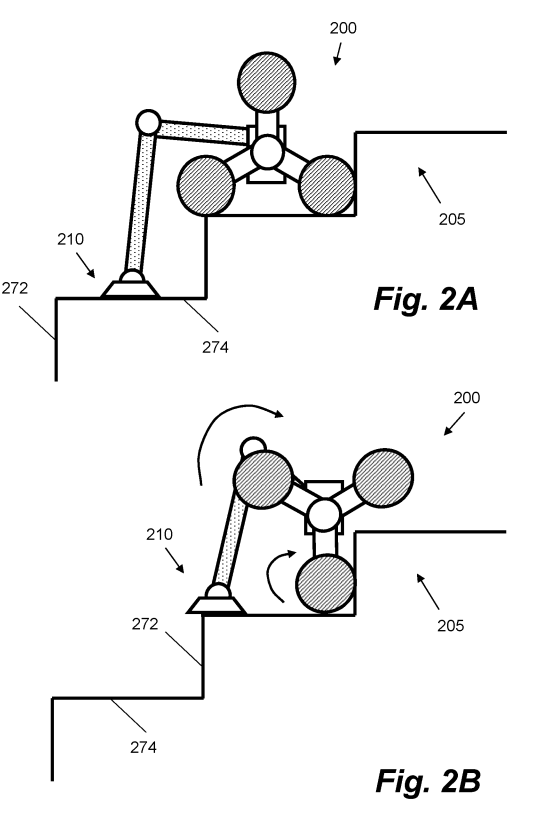 Until that idea becomes a reality, though, you'll need a different way to run your robot vacuum in a multi-floor home.
Can Roomba Map Multiple Floors?
Where older robot vacuums moved in a randomized pattern, some newer Roombas create maps of your floor plans. This makes the cleaning process faster and guarantees that they don't accidentally miss whole sections of the floor.
The latest iteration of this mapping technology, Imprint Smart Mapping, is capable of remembering up to 10 floor plans. Currently, the following models have this feature:
Imprint Smart Mapping is also available on the Braava M6, Roomba's smart mop.
Can Roomba Have Two Home Bases?
Roombas can easily use two or even more home bases. This is a great way to manage multiple floors, especially if your Roomba needs multiple recharges to clean a large floor.
These charging stations aren't cheap, especially if you want an auto-empty base. However, they are a fraction of the cost of buying a second Roomba.
Here are the prices of a second home base for some of the most common Roomba models:
09/30/2023 09:35 pm GMT
How to Use Roomba on Multiple Floors
Any Roomba can be used on multiple floors. Since it can't climb the stairs, you'll need to manually carry it between the floors. Then, just hit the clean button and let it run.
If you opted to add a home base to your second floor, your Roomba will find it and keep cleaning until the floor is done. Without a second home base, you may have to return your Roomba to its base manually during the run. This is especially true if you have a large second floor, your Roomba isn't a newer model with smart mapping, or your Roomba hasn't yet mapped the new floor.
How Do I Add Another Floor to My Roomba?
Roomba is smart enough to know when it's on a floor it hasn't seen before. Just move it to the new floor and it will start mapping out the floor plan.
This process may take several passes, but your Roomba will eventually recognize the new floor just as easily as its original floor. This process can be repeated for up to 10 floors.
Which Robot Vacuum Is Best for Multiple Floors
While any Roomba can clean multiple floors, I would recommend getting a Roomba that has Imprint Smart Mapping and an auto-empty base. Two ideal picks are the premium Roomba S9+ or the more budget-friendly i7+.
Imprint Smart mapping will speed up the process, which is crucial for larger homes. This process also takes less battery to clean the same space, which is especially important if you don't buy a second home base.
The auto-empty base is especially important if you have a lot of dirt or pet hair on your floors. Without it, you'll have to empty your vacuum multiple times, which is brutal if you use your Roomba on multiple floors.
What's Next?
Getting your Roomba working on every floor is a huge time saver. It's also a lot cheaper than buying one Roomba for each floor, even though I'm sure we'd all love to have an army of robot vacuums.
When you're done here, check out the full list of Alexa Roomba commands that you can use for scheduling or controlling your robot vacuum. For the cost of an Echo, you could be voice-controlling your robot army.
Looking for more ways of simplifying your smart home life? I've been compiling a massive list of smart plug ideas which are perfect for automating large homes or just reducing your electric bill.