This post may contain affiliate links. Please read my disclosure for more info.
---
Philips Hue is the most popular brand in smart lighting, but their premium price tag turns off some smart home beginners. That's why WiZ, an up-and-coming budget smart bulb brand, is so appealing.
The same parent company, Signify, has owned both Philips Hue and WiZ since 2019, so the two brands now have a lot of the same features. Thus, it seemed about time to do a full hands-on comparison of Philips Hue vs WiZ and see whether Hue is still worth the extra cost. Let's take a look.
Quick Comparison: Philips Hue vs WiZ
Pros:

More color options

Several form factors (bars, ropes, etc.)

Better smart home integration

More secure

Pros:

Lower price

No hub required

Cons:

Fewer product options

Less robust automations
Premium Pick
Pros:
More color options

Several form factors (bars, ropes, etc.)

Better smart home integration

More secure
Budget Option
Pros:
Lower price

No hub required
Cons:
Fewer product options

Less robust automations
09/29/2023 07:35 pm GMT
Features of Philips Hue and WiZ
Connection options
The newest Philips Hue smart bulbs can connect to your phone or smart home system in two ways:
Directly through Bluetooth
Through a Philips Hue Bridge using Zigbee (a Wi-Fi alternative)
Prior to 2019, Hue bulbs only supported Zigbee. Bluetooth connectivity was rolled out to all new devices over the past few years, but you'll still need a bridge for older models or some hardwired Hue lighting fixtures (like the Econic line).
You'll probably still want to buy a Hue Bridge (also called Hue Hub) eventually since the Bluetooth connection has a few limitations.
The Bluetooth connection has a range of about 33 feet, but you can control a Hue Bridge from anywhere in the world (if you have internet, of course).
With Bluetooth, you can only control 10 Hue lights, whereas the Hue Bridge can control up to 50.
The Hue Bridge lets you group lights into rooms or zones to create scenes or routines. Bluetooth can only control individual bulbs.
Most advanced routines (even single-bulb routines) are only available through the Hue Bridge connection.
WiZ bulbs connect through Wi-Fi rather than Bluetooth or Zigbee, so they don't require a bridge. That means you can control them from anywhere (even outside of your home) without any extra equipment.
Wi-Fi bulbs have no major downsides as long as you only have a few of them. However, having too many Wi-Fi devices can slow down your internet or cause interference with other Wi-Fi devices. In most cases, that can be fixed by upgrading to a better router (I suggest the TP-Link AX1800 for budget users or the AX6600 for power users)
Smartphone apps
Hue and WiZ both have full-featured Android and iPhone apps. Their apps let you:
Add new smart lights
Change light brightness or color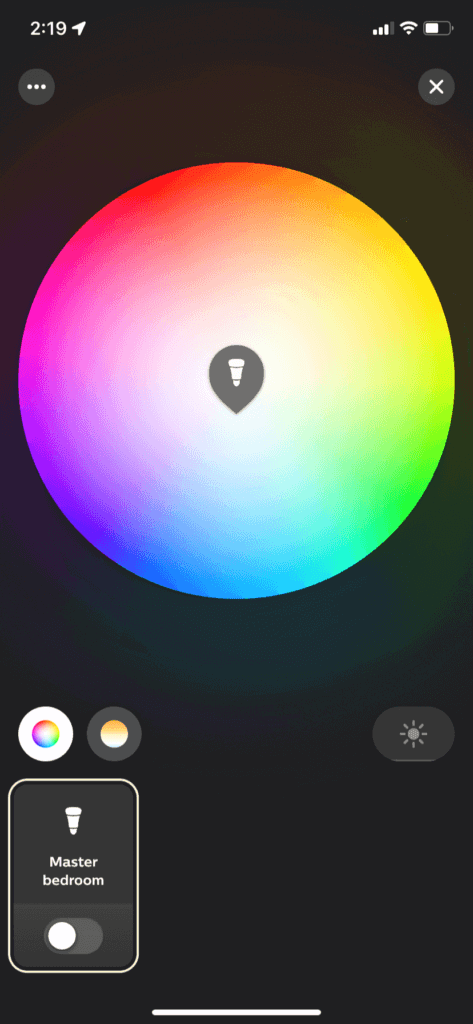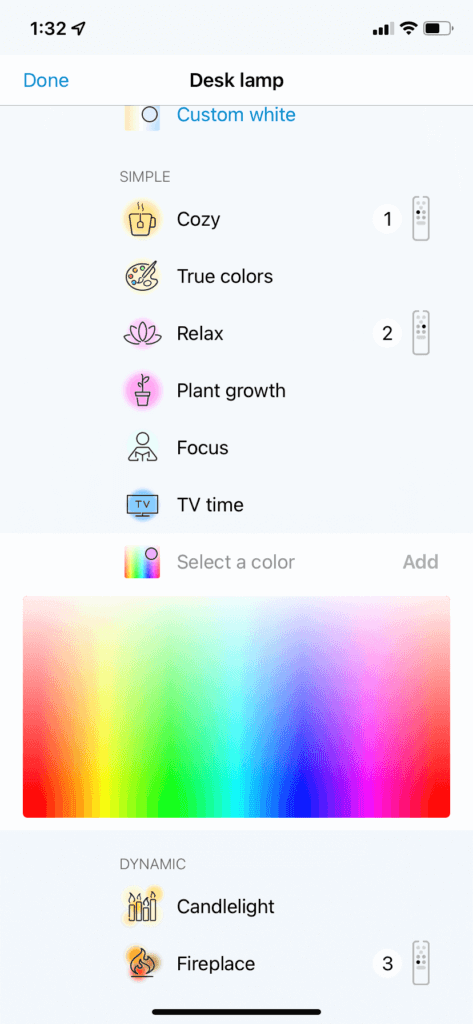 Set lighting scenes
Create light schedules or automation
And lots more
The Hue app includes Hue Sync, a feature that lets you sync lighting to Spotify music, your TV (with a Hue HDMI sync box), or your PC or Mac.
Smart home integrations
| Integrations | Philips Hue | WiZ |
| --- | --- | --- |
| Amazon Alexa | Yes | Yes |
| Google Assistant | Yes | Yes |
| IFTTT | Yes | Yes |
| Samsung SmartThings | Yes | Yes |
| Apple HomeKit | Yes | No |
Philips Hue bulbs integrate with all of the major smart home systems. WiZ includes most of the same integrations, but they are missing native support for Apple Homekit.
Apple users can still rely on Siri shortcuts with WiZ, but that can't recreate the full functionality of native HomeKit integration. Hue's Siri shortcuts are also more full-featured. With Hue, for example, you can create a single shortcut that acts as both an on and off button, depending on the state of the light. Siri shortcuts can't see the status of a WiZ light, though, so you need separate shortcuts for on and off.
Lighting options and quality
WiZ lighting options are fairly basic at this point. They have smart light bulbs in two socket sizes (E12, E26) and four bulb shapes. E26 sockets are the most common for household lighting, so that should be fine for the typical user. WiZ bulbs are available in daylight, soft white, and color-changing varieties.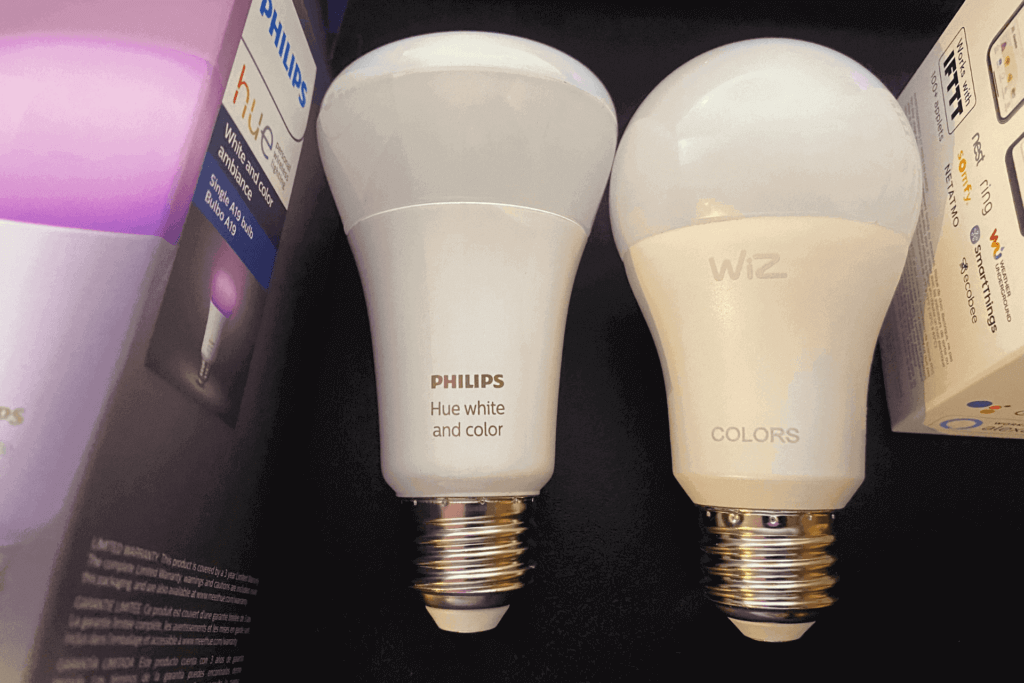 Along with their standard bulbs, WiZ has a modest array of LED lightstrips, lamps, and projectors. They also sell motion sensors, plugs, remotes, and dimmers for use with their lights or other devices.
Hue has had a lot more time to build out its product catalog. Their bulbs come in three socket sizes (E12, E26, GU10) and several bulb shapes. You can buy these bulbs in warm-to-cool white, soft warm white, or colored light varieties.
Compared side-by-side, Hue lights are more vibrant than WiZ lights. This is particularly noticeable for the color-changing bulbs. Most of the time, you probably won't notice the quality difference unless you happen to have both bulb brands in the same room, which I don't recommend since they can't be controlled together in the Hue or WiZ apps. If you are looking for a higher-quality lighting experience, Hue is a better option.
The biggest advantage of Hue, though, is in their additional products. Hue has outdoor LED lightstrips, gradient LED lightstrips, and a few other varieties that WiZ doesn't currently offer. They have table lamps, floor lamps, recessed lights, spotlights, outdoor wall lights, ceiling lights, and pendant lights. You could light your entire property with Hue, something that Wiz can't yet claim.
Hue's accessories are also more robust. They have motion sensors, outdoor sensors, smart plugs, smart buttons, and dimmers. They even have my favorite—HDMI sync boxes that let you sync your lights to the colors on your TV.
Ease-of-Use and Support of Hue and WiZ
Philips Hue is incredibly easy to use, especially given how many things you can do with Hue bulbs and the Hue app. With or without a bridge, new lights can be added in just a couple of taps. The app walks you through automations, sync, and other advanced features with easy step-by-step processes.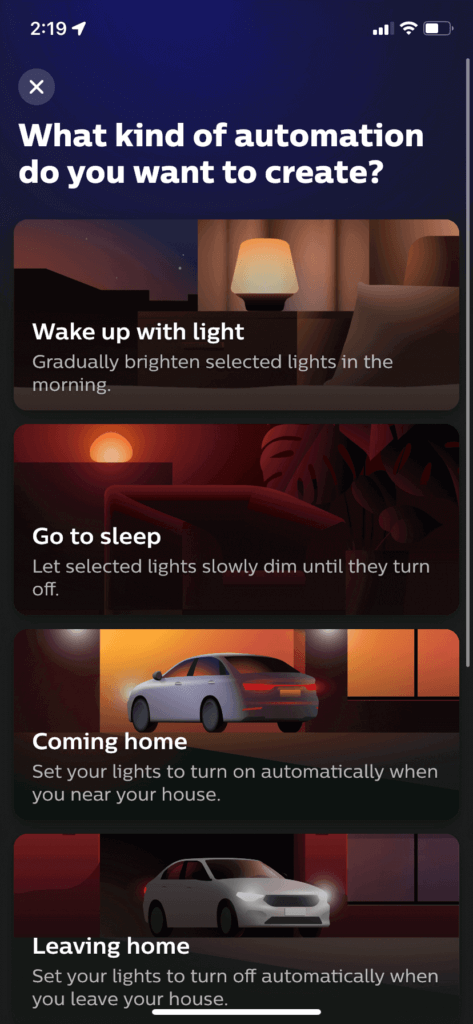 There is a bit of a learning curve when it comes to discovery, but that's unavoidable with a smart home device that has so many features. If you're happy with a basic setup, you never need to worry about that.
When you're ready to explore the advanced features, they are explained throughout the app. Philips even includes information on how to use Hue with different smart home assistants or third-party smart home devices.
WiZ isn't particularly hard to use either. In my experience, though, everything with Wiz is just a little bit harder and a little bit more prone to bugs than with Hue. Their app is improving, but it's just not quite up to the Hue standard yet.
For example, it took me about 10 minutes to set up my first WiZ bulb whereas it took just a couple of minutes with Hue. Since WiZ doesn't have a bridge, there are a couple of extra steps required when adding a bulb, like typing your network password. I had to manually add one of my bulbs, and getting it into setup mode took about a dozen attempts.
WiZ's version of automations, called rhythms, is easy to use for simple tasks like setting wake up and sleep times. However, there's no simple way to set lights to slowly dim over time or to respond to you leaving or entering your home. You can set several change points in a rhythm, but it quickly becomes difficult to manage.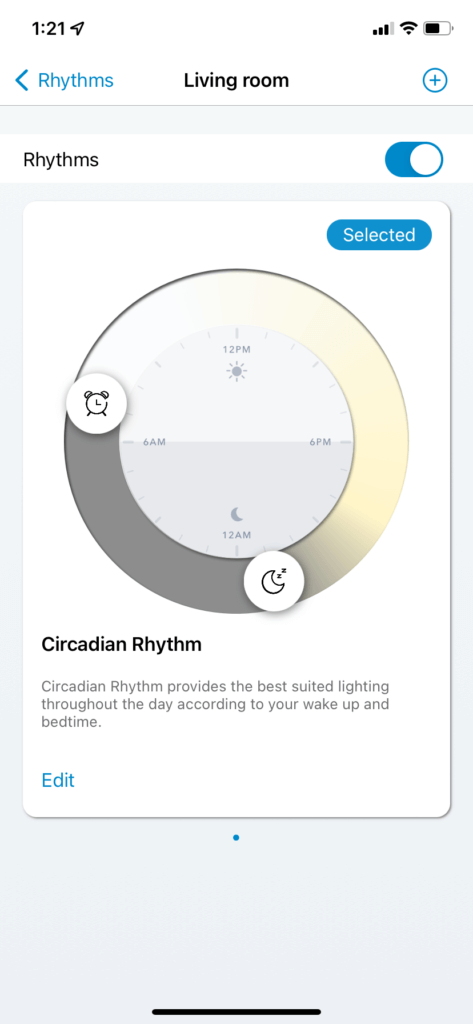 Both the Hue and WiZ apps have how-to videos, extensive support documentation, and in-app ways to get in touch with support. Whereas Hue's support uses Facebook and Twitter, WiZ can connect you to live chat (or let you send as support request email) right in the app.
Beginner, novice, and advanced users alike will benefit from the rich community of Hue users. It's always easier to find community help for a Hue problem, whether you are googling the question or relying on a Facebook group. When I first encountered the infamous Hue Bridge unable to connect errors, I was able to find answers online within five minutes. WiZ doesn't have as active a fan community. Advanced users in particular just won't get as much aid from fellow WiZ users.
Value of WiZ vs Hue
Hue products are more expensive than WiZ, but the price difference varies depending on the type of bulb. For simple dimmable white bulbs, you can get started with Hue for $15–25 per bulb or WiZ for $10-15 per bulb.
More likely, though, you'll want color-changing bulbs, the most popular smart light products. That's where the price difference becomes significant. Hue color-changing bulbs will set you back $40 to $50 each, whereas you can get color-changing WiZ lights for $12–20.
That price won't get you a Hue Bridge, either. You can buy that separately $60, even if you didn't buy one initially. However, you'll save money in the long run by buying one of the starter kits, which include typically 2–4 bulbs and a bridge. Some of the starter kits even have light strips, smart buttons, and some other goodies.
The tables below show prices for some of the most popular smart bulbs, starter kits, and other lighting options from Hue (first table) and WiZ (second table).
Frequently Asked Questions
What is Philips WiZ Connected?
In 2020, Philips started rolling out a new line of bulbs called Philips WiZ Connected. These bulbs are made by Philips, but they use Wi-Fi instead of Bluetooth or Zigbee and connect to the WiZ app instead of the Hue app.
Philips WiZ Connected bulbs are priced similarly to WiZ bulbs, and they are likely the new face of the WiZ brand. There's currently no strong reason to choose Philips WiZ Connected over WiZ bulbs (or vice versa), and the two seem to work well together in the same smart home ecosystem.
Philips Hue or WiZ: Which Is Better?
Philips Hue is a premium product with an ecosystem to match. Because of their integrations and vast array of products, Hue smart lights will easily grow with you on your smart home journey. If you're going all-in on smart tech for your house or apartment, they are the superior option.
WiZ is a value brand, comparable to Sengled or Wyze. Since you don't need a bridge or other add-ons, you can get started with WiZ smart lighting for under $20. That makes it ideal for newcomers who want to dip their toes into smart home technology without breaking the bank.
Once you've got your lighting in place, be sure to check out my smart plug ideas list for more ways to upgrade your home. And if you're looking for an affordable mid-range robot vacuum, take a look at my recent head-to-head comparison of the Shark IQ and Roomba i3.