This page may contain affiliate links. Please read my disclosure for more info.
---
Your smart home should keep you safe, especially when you are most vulnerable. When tragedy strikes and you can't reach a phone, you should be able to reach emergency responders just by shouting for help. That's the dream, but is it currently possible to call 911 with Alexa?
Alexa can't call 911 yet for regulatory reasons. In this article, I'll cover other ways to get emergency help from your Echo, including skills and devices that will put you in touch with EMTs, police, and other emergency responders. I'll also show you how to set up emergency contacts and Alexa skills that can quickly get you in touch with your loved ones when you need them.
Will Alexa Call 911 for You?
Alexa cannot call 911—at least not directly. There are, however, Alexa skills that can indirectly contact emergency services. There are also Alexa-enabled phones that let you call 911 through a simple voice command.
Why Can't Alexa Call 911 Directly?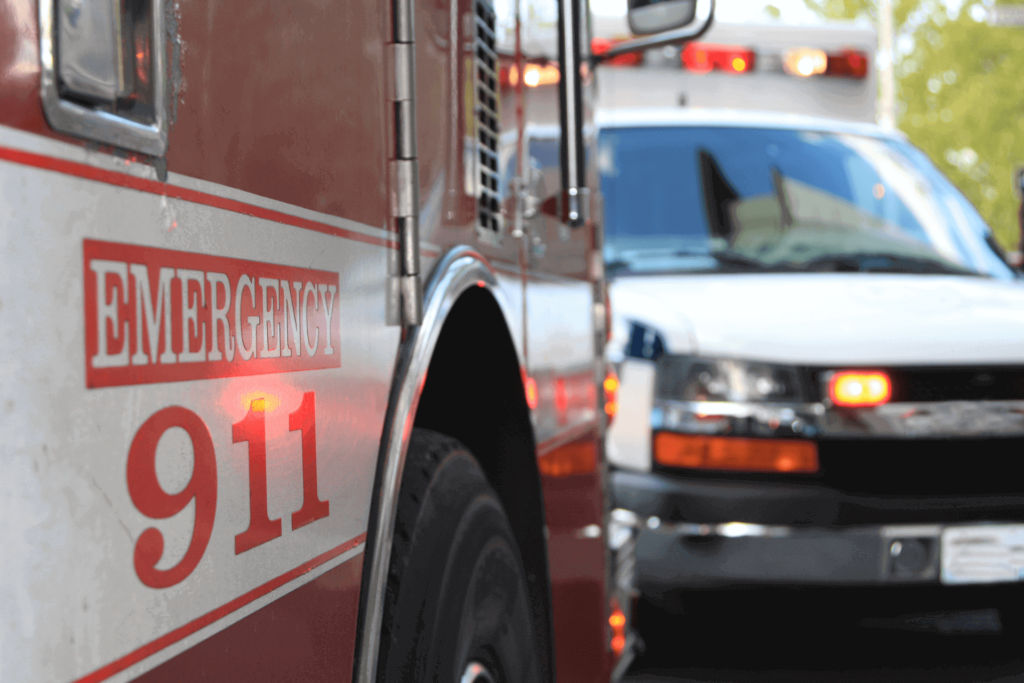 The Federal Communications Commission (FCC) defines requirements for 911-enabled phones. One such requirement is that these phones must be able to provide the caller's location information and callback number automatically.
It's not hard to figure out why a 911 operator would nefed this info. After all, what if you called 911 but were unable to provide the address yourself? The 911 operator needs to know where to send help.
Alexa smart speakers don't require location information when you first set it up, which is why it doesn't qualify for sending 911 calls. Fortunately, the methods below can bypass that concern either by adding an intermediary (OnStar, Amazon, etc.) or introducing a second device that has the required location information.
How to Make 911 Calls Using an Alexa-Enabled Phone
Alexa-enabled landline phones are currently the best way to have Alexa call 911. There aren't a lot of Alexa phones to choose from, currently. The best, by far, is the Motorola AXH01.
These phones allow you to make landline calls, including calls to 911, just by pressing the Alexa button and saying "Alexa, call …".
This method does not let you make calls through your other Alexa devices. You'll need to have your Alexa-enabled phone in hand to make the call.
Still, it's currently the only way to get Alexa to call 911 directly. The rest of the methods we'll talk about are either workarounds or require equipment that has been discontinued.
Can Alexa Call 911 Using Echo Connect?
The Echo Connect does allow Alexa to call 911. This device was, however, discontinued a couple of years ago. They are increasingly hard to find and, even if you do have one, they require landline or voice-over-Internet-protocol (VoIP) service. They don't work with cell phone services.
If you already have an Amazon Echo Connect, you can continue to use it with 1st and 2nd generation Echo devices. It isn't compatible with some newer Echo devices, though, so this may be a good time to consider one of the alternatives Alexa emergency calling methods discussed in this article.
Can You Add 911 as an Alexa contact?
There's a popular hack in which people trick Alexa into calling 911 by adding 911 to their contact list. This method has shown very mixed results, with some users reporting that it works great and others that it doesn't work at all.
I strongly encourage you not to rely on this method. It's too unreliable for use in an emergency. Further, there's a good chance that it will stop working altogether in a future Alexa firmware update.
Other Ways Alexa Can Help In an Emergency
Use Alexa Guard Plus
Alexa Guard Plus is Amazon's hands-free emergency helpline, available on any Echo device. For a small monthly fee, they allow you to:
Say "Alexa, call for help" to speak with trained agents who can request emergency responders for you.
Receive smart alerts on your phone if Alexa hears footsteps, closing doors, or breaking glass while you are away or if your smoke alarm or carbon monoxide sensor goes off. You can also play the recorded sounds that Alexa heard to verify that it's a real break-in.
Deter intruders by turning on smart lights or playing loud sounds (like a barking dog).
Guard Plus is currently the best way to get emergency help directly through your Amazon Echo device. That being said, it doesn't directly call 911.
Call your Alexa emergency contact
Alexa allows you to set up an emergency contact in the app. You can then trigger a call to that emergency contact using any of the following commands:
"Alexa, call for help."
"Alexa, call my contact for help."
"Alexa, call my help contact."
"Alexa, call my emergency contact."
Even if you are using one of the other emergency contact methods described in this article, you should include an emergency contact in your Alexa app.
How to add an emergency contact in the Alexa app
Setting an emergency contact in the Alexa app only takes a few seconds, especially if Alexa already has access to your contacts.
Open the Alexa app and select Communicate from the bottom menu bar.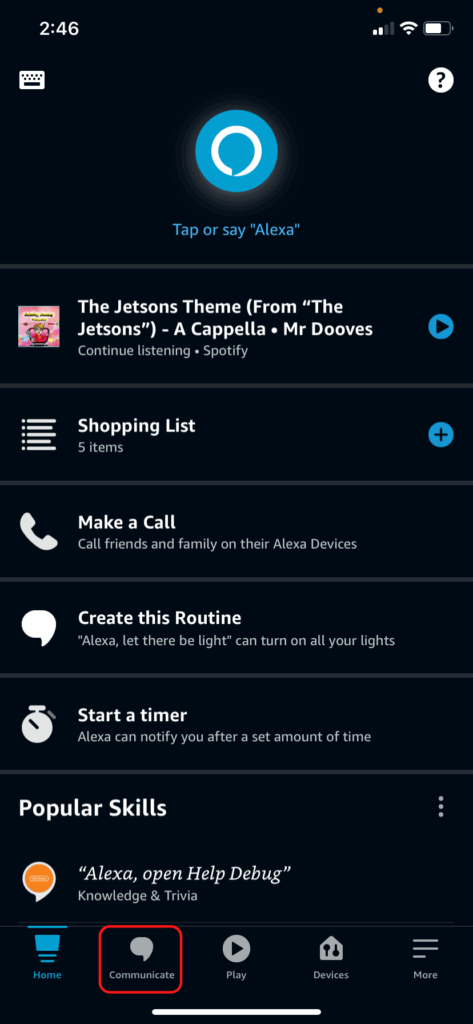 Open Contacts by clicking the icon of two people in the upper right corner of the screen.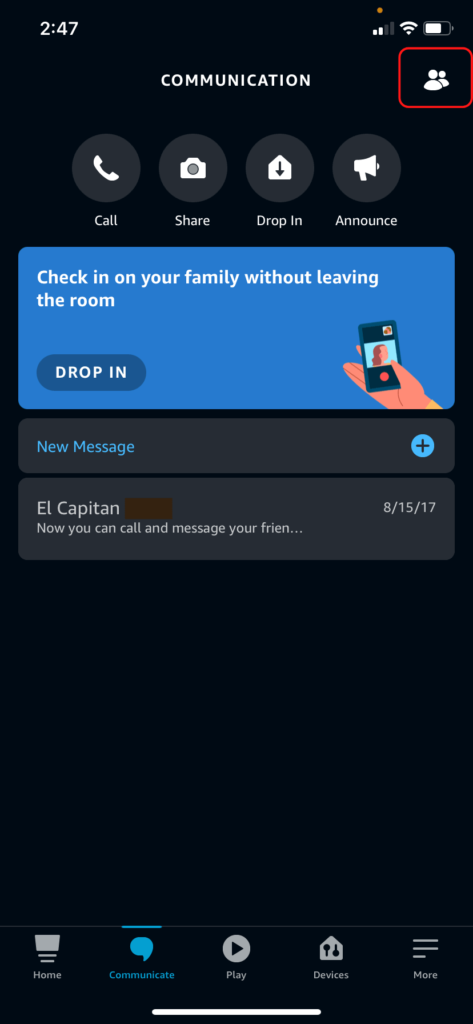 Select the person you want to make your emergency contact.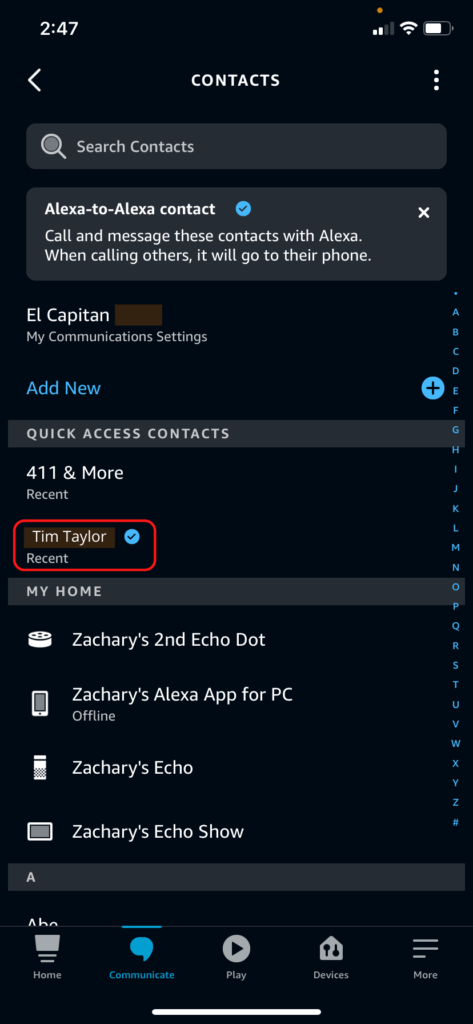 Scroll down and click on Add as Emergency Contact.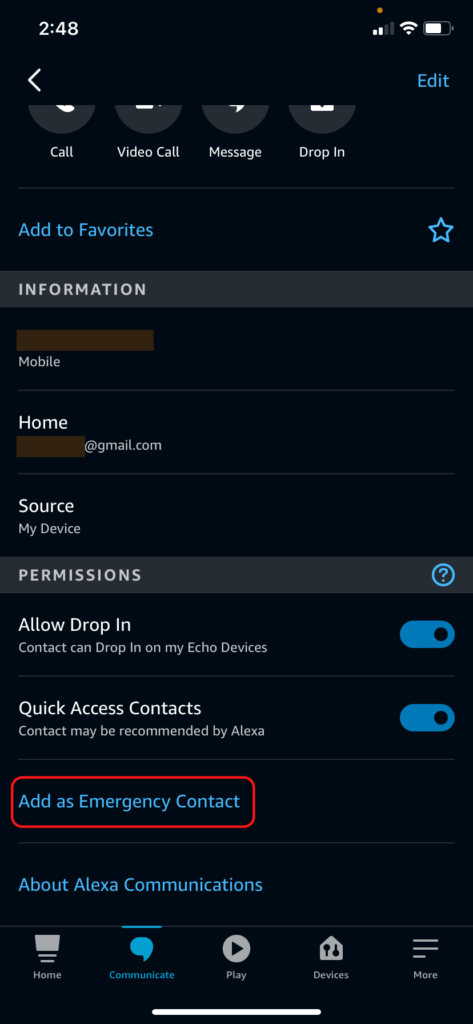 Click OK to confirm that you want to add an emergency contact.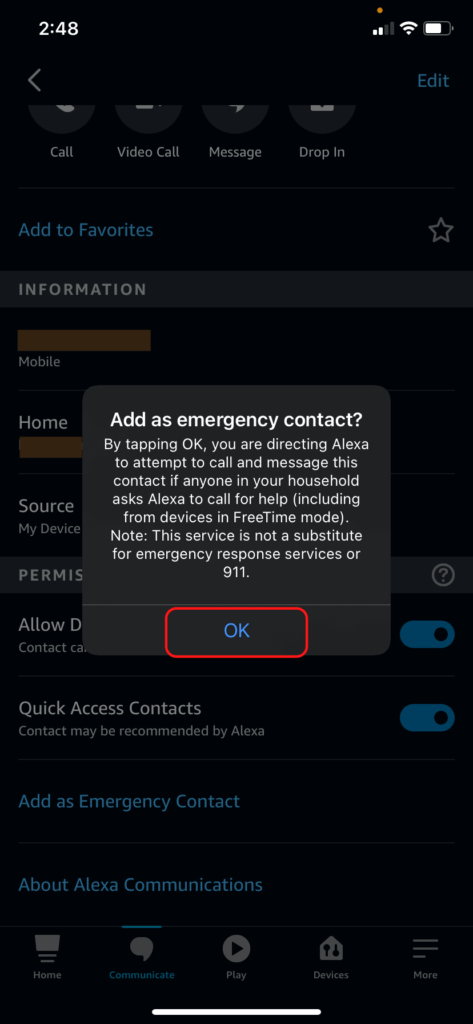 Finally, select which phone number to use to get in touch with your emergency contact when you ask for help.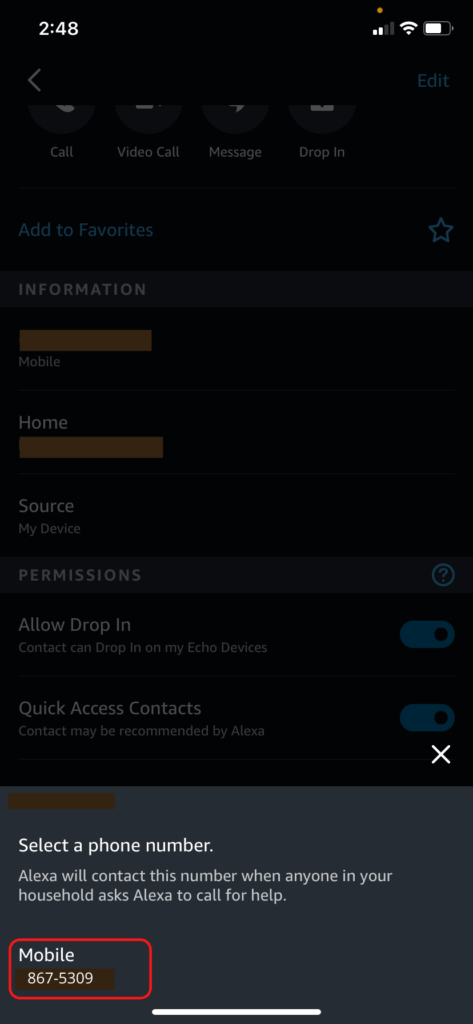 Use the Ask My Buddy Alexa skill
The free version of Alexa's Ask My Buddy skill is like a super-charged version of an Emergency Contact. You can add up to five emergency contacts to Ask My Buddy. Then, in an emergency, you can use Ask My Buddy to simultaneously send an email, text message, and phone call to one of those contacts.
The paid version adds Buddy Assist, a 24/7 emergency responder network like Alexa Guard or OnStar. The Buddy Assist operators can patch you through to 911 and emergency services (police, EMT, etc.).
Similar skills:
Use Echo as a speaker for emergency calls
While Alexa can't make emergency phone calls directly, it can act as a voice assistant and speaker for your other devices that can call 911. All you need is a mobile phone connected to Echo using Bluetooth. In an emergency, use Alexa's voice control of your device to make the phone call and you'll be able to hear it from a distance through your Echo speaker.
Coming Soon: Call 911 Using Alexa's OnStar Skill
General Motors, the makers of OnStar, recently announced that they are creating an OnStar Alexa skill for all Echo devices. Existing OnStar users will have access to that in the next couple of months, and anyone will be able to subscribe to it sometime in 2022.
There's no info yet about the cost of OnStar's new Alexa skill. What we do know is that it won't allow you to directly call 911 on your Amazon Alexa device. However, just like with Alexa Guard, OnStar's emergency-certified advisors can patch you through to police, EMT, or any other emergency service.
Smart Homes Are Safe Homes
Alexa can't call 911 by itself, but it can still help in an emergency. You should definitely have an emergency contact set in the app, and these other devices and services are worth considering, too. I would especially recommend them for your elderly relatives or anyone that lives alone or is at high risk.
These emergency responses are not the only way that Alexa can help keep you safe. Don't forget about Alexa's smart camera equipment (like my favorite, the Ring Video Doorbell) or smart locks (like the incredibly easy-to-install August smart lock). A few smart security devices connected to your Alexa can provide some much-needed peace of mind.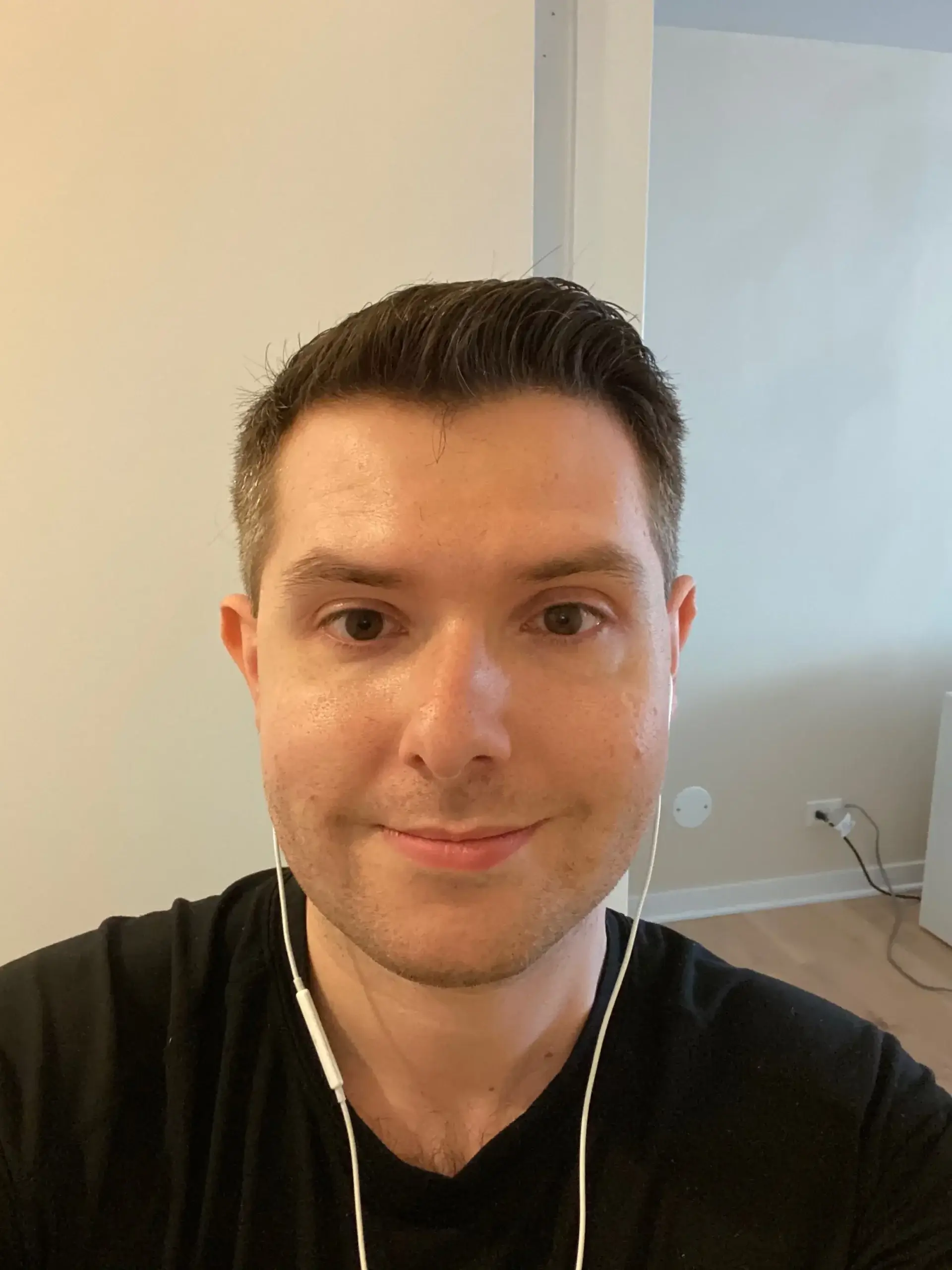 Zak has spent 12 hears in the tech industry focusing on automation, analytics, and cybersecurity. His passion is tech education; he uses his industry expertise and STEM PhD to break down complicated concepts into simple step-by-step guides. When he's not writing or coding, you can find him binging anything Star Trek or Marvel or reading far too many sci-fi novels.