This post may contain affiliate links. Please read my disclosure for more info.
---
A smart speaker needs some smart online radio stations. With the help of iHeartRadio, you can get access to almost 1,000 stations and over 250,000 podcasts, all from the convenience of your favorite Echo device.
In this article, you'll see how to play iHeartRadio stations on Alexa, how to make iHeartRadio your default Alexa music service, and all of the voice commands you need to find your favorite iHeartRadio music on Alexa.
How to Connect iHeartRadio to Alexa
Select the More tab in the Alexa app.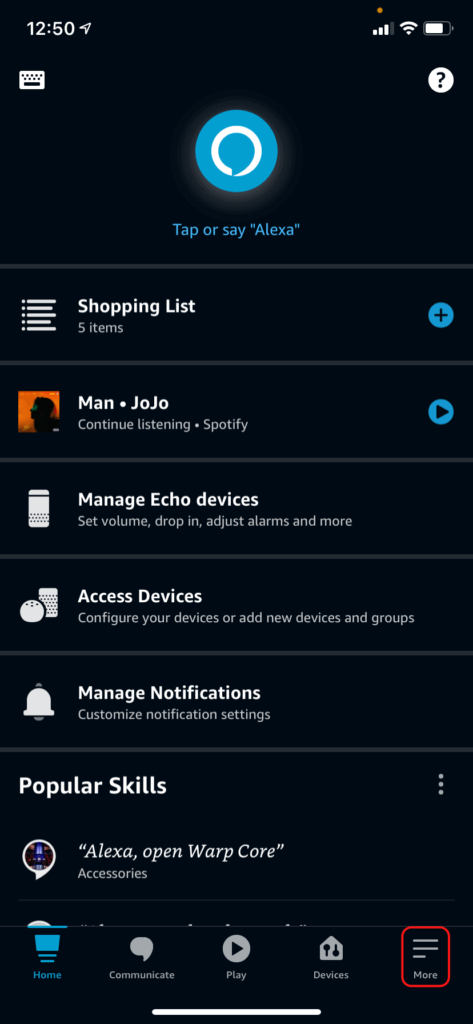 Select Settings from the menu items.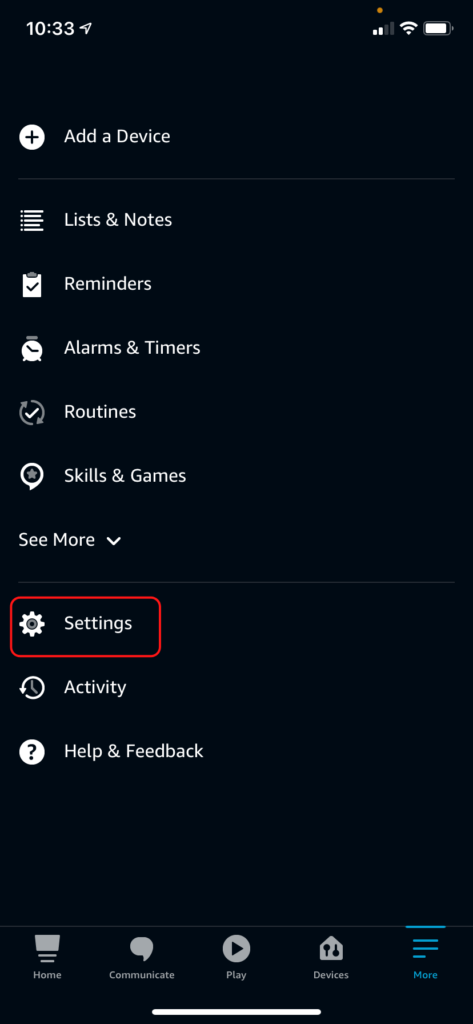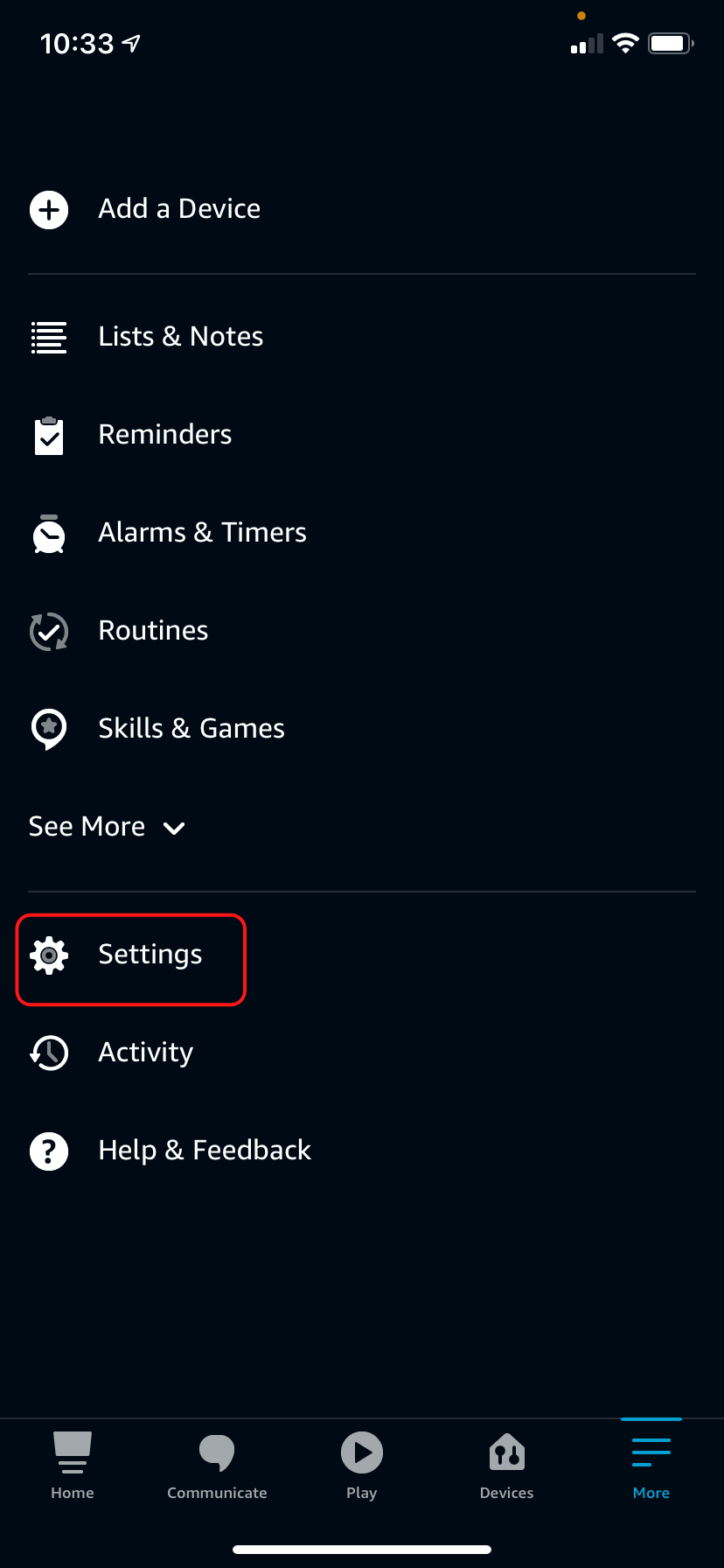 Select Music & Podcasts from the Settings menu under Alexa Preferences. You may have to scroll down to see it.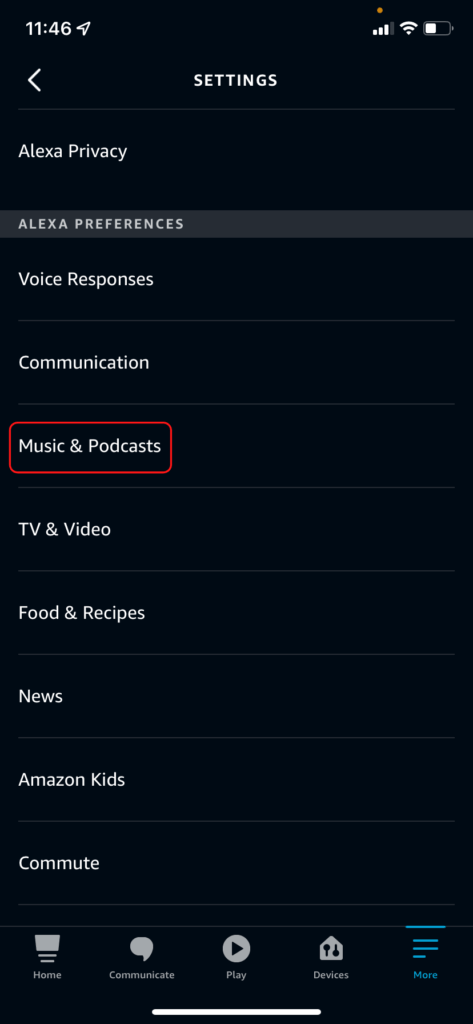 Select iHeartRadio in the Services section of the Music menu. You may have to scroll down to see it.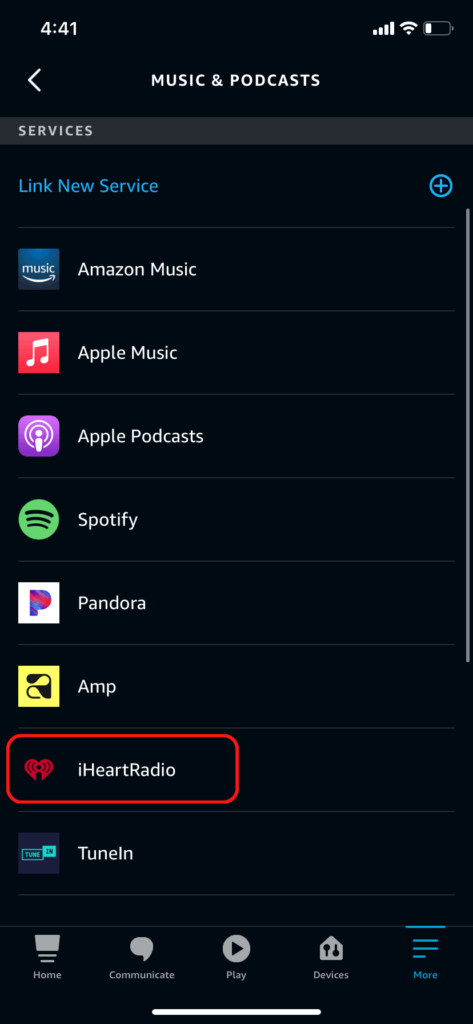 Click Enable to Use to activate the iHeartRadio skill in your Alexa account.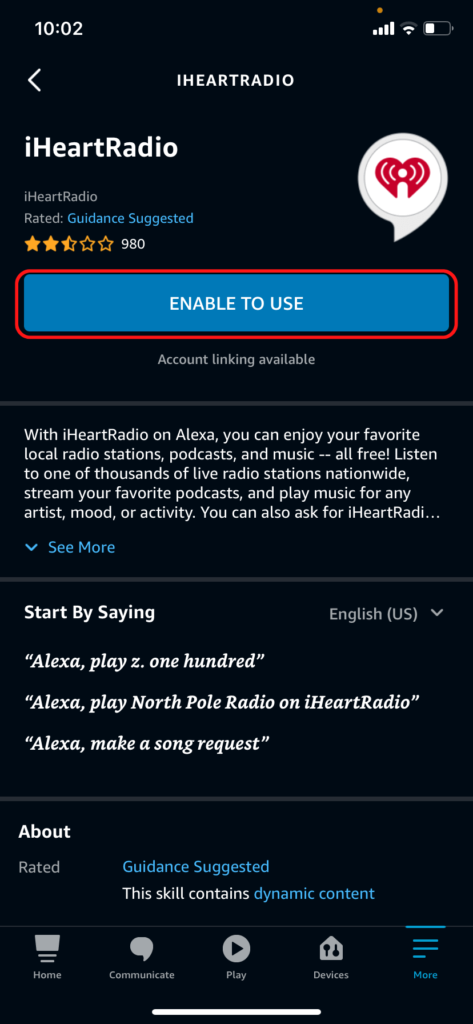 With the skill enabled, you can start using iHeartRadio on all your Alexa devices.
We'll look at all of the Alexa iHeartRadio commands in a minute. But, for now, you can get started by requesting an artist radio with a command like "Alexa, play Cardi B radio on iHeartRadio."
Before leaving the Alexa app, there are two more things you'll want to do.
Link your iHeartRadio account to the Alexa skill to access your personalized content and other benefits of iHeartRadio membership. I suggest this even if you just have (or want to create) a free iHeartRadio account.
Set iHeartRadio as your default Alexa music service. That way, you don't have to specify iHeartRadio for voice commands. You can just say, "Alexa, play Kesha radio," and your Echo will know you want it to use the iHeartRadio skill.
Linking your iHeartRadio account
Select Settings from the iHeartRadio Alexa skill page.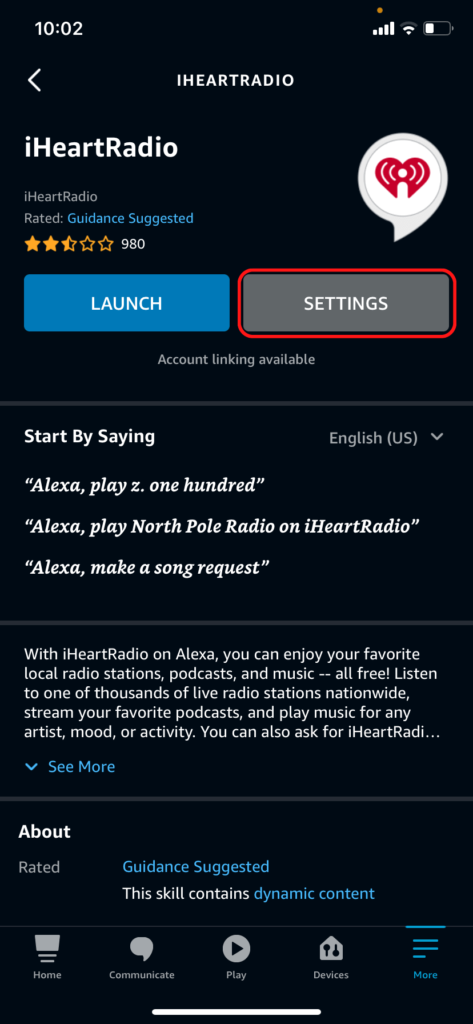 Click Link Account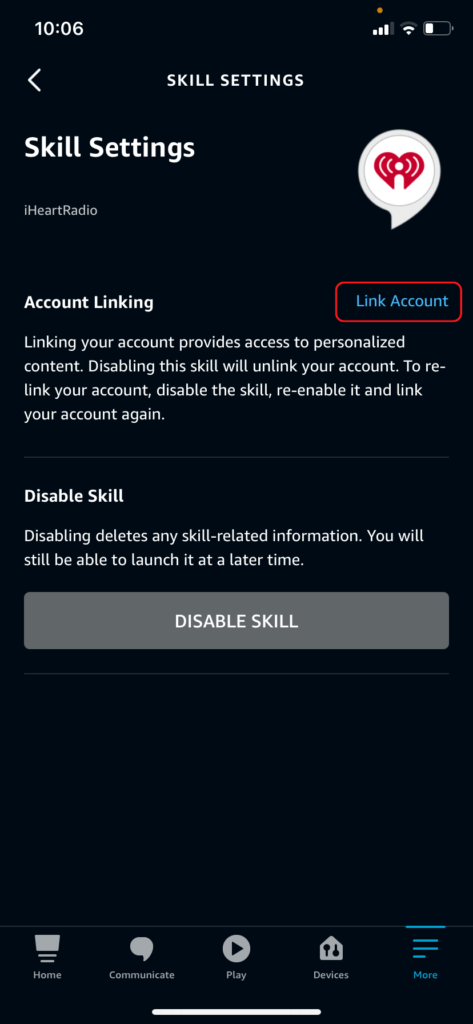 Sign in with your iHeartRadio credentials (or sign up) and give the Alexa skill access to your iHeartRadio profile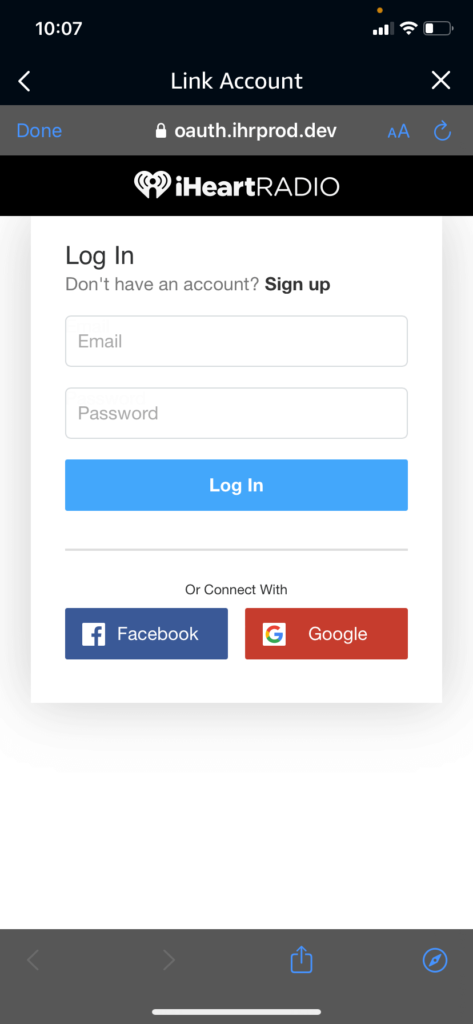 Setting iHeartRadio as Alexa's default music service
Go back to the Alexa Music menu. In case you forgot, it's at More -> Settings -> Music & Podcasts.
Select Default Services from the menu.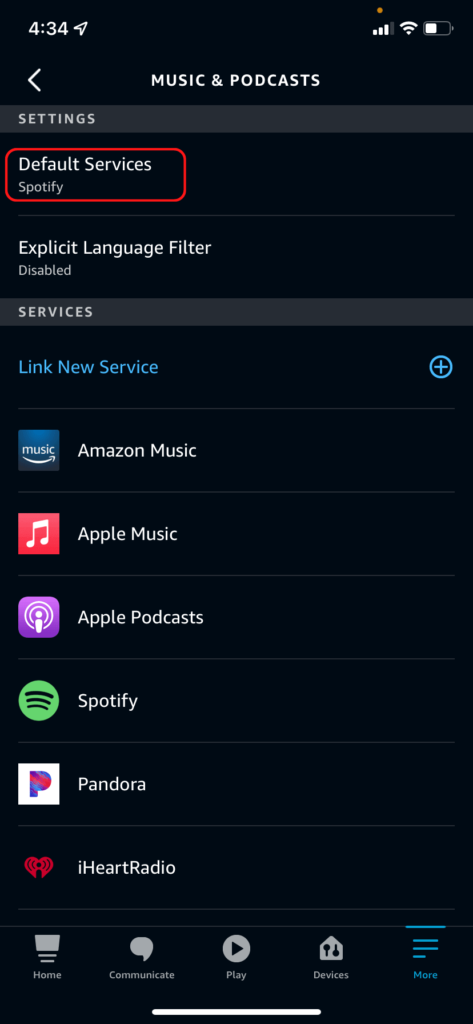 Click Change under any of the menus. You'll probably want to set the same default service for all three, but you can also set iHeartRadio as the default for just music, artist and genre stations, or podcasts.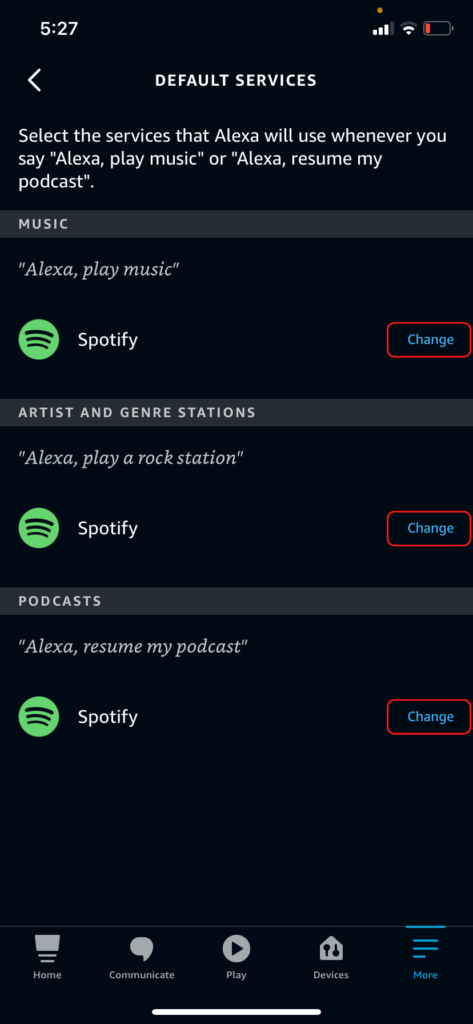 Select iHeartRadio from the list of music services.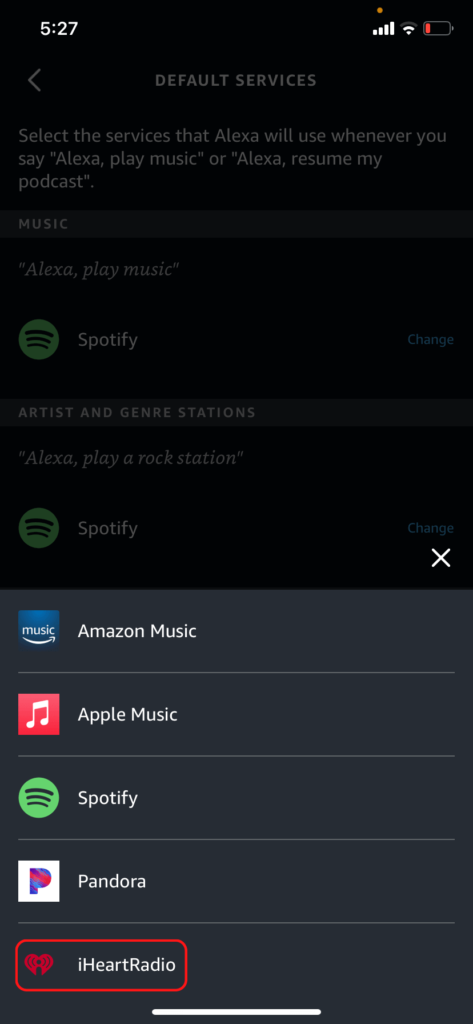 Change the remaining two defaults to iHeartRadio if you want to.
What If Alexa Won't Play iHeartRadio?
Sometimes, Alexa becomes unresponsive or fails to play music services like iHeartRadio. If that happens, try these fixes.
Restart your Echo by unplugging it, waiting 30 seconds, and plugging it back in.
Update your Echo by saying, "Alexa, check for software updates." On the Echo Show, you'll need to go to Settings -> Device Options -> Check for Software Updates, as the voice command won't work.
Disable and reenable the iHeartRadio skill in the Alexa app.
Alexa iHeartRadio Commands
Here are the currently available iHeartRadio commands for Alexa.
iHeartRadio action
What to say
Example
Play a radio station
Alexa play [station name]

Alexa, play [Station name] [Region]

Alexa, play [station frequency]

Alexa, play the station [station call sign]
Alexa, play Smooth Jazz Chicago
Play an artist station
Alexa, play [artist]
Alexa, play Kelly Clarkson
Play a podcast
Alexa play the podcast [podcast]

Alexa, play my [playlist] playlist
Alexa, play This Week in Tech podcast
Play / Resume music
Alexa, play

Alexa, resume
Pause music
Alexa, pause

Aelxa, stop
Go to next song
Alexa, next

Alexa, next song

Alexa, skip

Alexa, skip song
Give song info
Alexa, what kind of song is this?

Alexa, what song is this?
Give album info
Alexa, what's the album?
Give artist name
Alexa, who sings this?

Alexa, who is this?
Increase volume
Alexa, volume up

Alexa, louder
Decrease Volume
Alexa, volume down

Alexa, quieter
Set volume
Alexa, set volume to level [number]

Alexa, volume [number]
Alexa, set volume to 9
If you don't have iHeartRadio set as your default music service, you'll need to add "on iHeartRadio" to the end of the commands. For example, you would say, "Alexa, play Kelly Clarkson on iHeartRadio."
Frequently Asked Questions
Can I listen to iHeartRadio on Alexa?
You can play iHeartRadio stations on any Alexa device once you've installed the iHeartRadio skill. Just ask Alexa to play your favorite artist or station with a command like "Alexa, play Kenny Chesney on iHeartRadio."
How do I sync iHeartRadio with Alexa?
You need the iHeartRadio skill installed on Alexa and linked to your iHeartRadio account to sync across your devices.
How do I get a radio station to play on Alexa?
You can play any of iHeartRadio's 860+ radio stations by requesting it by name, frequency, or call sign. For example, you could request Power 105.1 by saying, "Alexa, play the station Power 105.1."
Is iHeartRadio free with Amazon Prime?
You don't need a subscription to use iHeartRadio on Alexa. However, their paid subscription does add some extra goodies like the ability to play any song on demand or instantly replay songs.
What's Next?
iHeartRadio isn't your only music skill on Alexa. But it does have some of the best free radio stations, and it's a good backup for when Alexa won't play Apple Music or Spotify doesn't have your favorite artist.
Many of the voice commands above are the same as the Spotify Alexa voice commands, which makes switching default music apps easy. And if you have a family sharing your Alexa account, you can choose to each use your own default or you can, for example, have multiple Spotify accounts on one Alexa.