This post may contain affiliate links. Please read my disclosure for more info.
---
There was a time when you needed half a dozen remotes to control your entertainment center. Then, along came the universal remote, one of the greatest inventions for simplifying your home tech.
In this guide, we'll look at what universal remotes work with the Firestick and other Fire TV devices and how you can easily connect a universal remote to your Firestick. As a bonus, we'll also look at a couple of ways to control your Firestick without the need for any remote.
Can You Use a Universal Remote on a Firestick?
Standard infrared (IR) Universal remotes won't work with the Fire TV Stick and other Fire TV devices. Fire TVs use Bluetooth instead of IR to communicate with their remotes, so your universal remote will need to be Bluetooth-capable.
There are workarounds for getting IR remotes to talk to your Firestick, but there are plenty of full-featured Bluetooth remotes on the market. Unless you already have a universal remote that you are particularly attached to, I'd suggest just going Bluetooth.
What Remotes Can You Use With Firestick?
Most Bluetooth remotes should work with Firestick, and many will include specific instructions for Fire TV and other streaming sticks.
Here are a few remotes that have been confirmed to work with Fire TV Sticks and Fire TV Cubes:
The price range and functionalities of these remotes vary significantly.
At the high end, the Harmony Smart Control has Bluetooth, IR, and Wi-Fi connectivity. It is compatible with over 270,000 devices, including Philips Hue bulbs and other smart home tech, and even most video game systems.
The SofaBaton F2 and Sideclick aren't quite as sophisticated. They aren't even standalone universal remotes. Rather, they are attachments for the Fire TV remote that add extra buttons for controlling the rest of your electronics. Their simplicity also translates to a much lower price tag (under $30).
The Inteset remote is, in many ways, a standard IR remote. It can control 100,000 different devices, including many of the same ones the Harmony talks to. The real magic is in the IReTV Receiver and Y Cable that give the remote a way of communicating with your Firestick.
How Do You Connect a Universal Remote to a Firestick?
Each remote connects to the Fire TV in its own way, so I'll just cover a few examples to give you an understanding of the difficulty level we are talking about. Check your universal remote's manufacturer website or manual for your specific case.
Harmony smart control (Discontinued)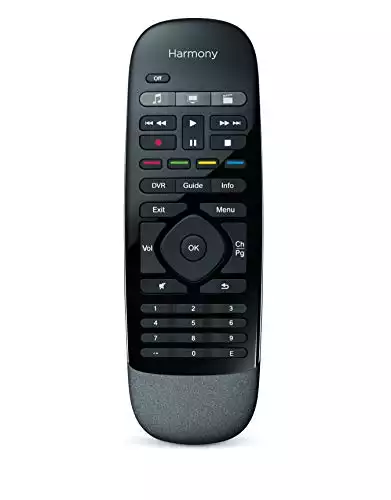 The Harmony control is probably the easiest option, as the app guides you through the entire setup process. Just download the app from the Apple app store or the Google Play Store, plug the Harmony Hub into a wall outlet, and follow the on-screen instructions.
The remote was discontinued in 2021, but it's still being serviced by Logitech. And nobody has created a better alternative.
Firestick universal remote attachments
Firestick remote attachments like the Sideclick and SofaBaton S2 don't need to connect to your Firestick. They attach to your original Fire TV remote, letting it handle all of the Firestick controls.
You just need to program the universal remote buttons to your TV following the instructions in the attachment's manual.
Inteset remote with IReTV receiver
The first step for setting up IR remotes like the Inteset remote is attaching an IR receiver to your Fire TV device. With the Fire TV Cube, you can directly attach the Inteset IReTV IR Receiver to the device's USB port.
Since the Firestick's only USB port is reserved for the power adapter, it requires the addition of a Y Cable. This cable acts as a USB splitter, letting you connect both the power adapter and the IR receiver to your Firestick.
Once the IR receiver is in place, you can program your remote to control the Fire TV just like you would any other device. With the Inteset remote, that means:
Press the A, B, C, or D key (whichever one you want to use for the Firestick).
Press and hold the SET button. You can release it when you see the red LED light on the remote blink twice.
Enter 02049 on the remote. That is the current code for the Fire TV Stick. If you enter the right code, the LED will quickly blink twice.
Can You Control a Firestick Without a Remote?
You don't actually need a remote to control Fire TV devices. Amazon's Fire TV apps for iPhone and Android act as fully capable Firestick remote replacements. That's one of the advantages of using Bluetooth instead of IR.
You can also control your Firestick using a Bluetooth-enabled mouse, keyboard, or game controller (including PS4, PS5, Xbox One, and Xbox Series S controllers). And if you have an Echo or other Alexa-enabled device, you can even issue voice commands to your Firestick.
What's Next?
No one needs another remote on their coffee table. Besides, adding your Firestick to your universal remote is a good fallback in case your Fire TV remote gets lost or broken.
If your Firestick remote is out of commission, I also suggest bookmarking my guides to pairing a new Firestick remote and resetting Firestick without a remote. It's way too easy to lose that tiny remote, especially if you use your Firestick on multiple TVs or take it with you when you are traveling.