This page may contain affiliate links. Please read my disclosure for more info.
---
Smart homes have tons of connected devices, so it's hard to find the IP address of any one device. Fortunately, Philips planned for that. In this guide, you'll learn two easy ways to find a Hue Bridge IP Address using either your web browser or the Hue app.
Find Your Hue Bridge IP Address Using Meethue
Hue provides a website where you can easily find the internal IP address of your bridge: discovery.meethue.com.
You need to visit the site from a computer or mobile phone on the same network. Otherwise, you'll be met with a blank page.
You should see a page like the one in the image below, which shows the id, IP address, and port for your Hue bridge.

Owners of multiple Hue bridges will see one entry per bridge. If anyone knows an easy way to identify which bridge is which on that display, I'd love to hear it. For now, I just unplug them one at a time to identify them.
If you're on the right network and the page still shows up blank, make sure you're not using a proxy or VPN (virtual private network) app on your browser or computer. Otherwise, the site won't recognize that you are on your bridge's network.
Locating Your Bridge IP Address in the Hue App
Here's an alternative method in case the meethue site is down. You can find the internal IP address of your Hue bridge in the Philips Hue app.
Open the Hue app on your iPhone or Android.
Click the Settings tab in the lower-right corner of the screen.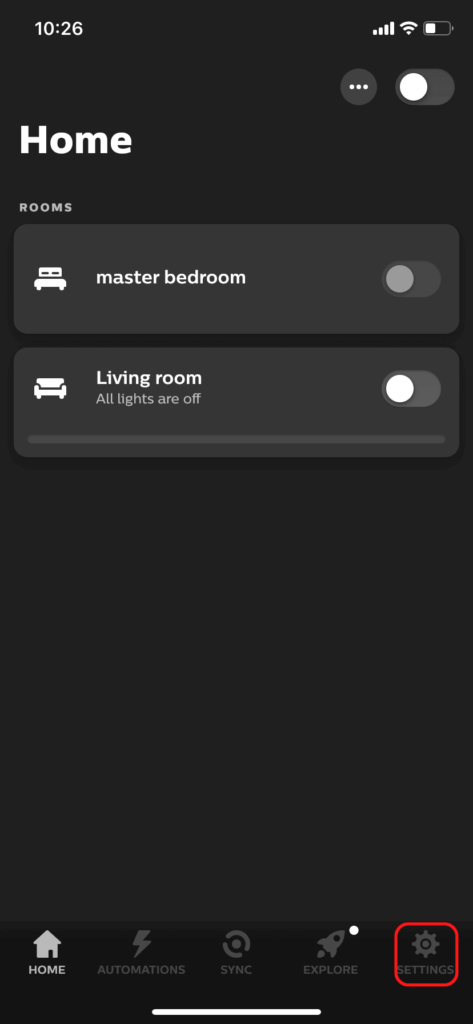 Select My Hue System at the top of the menu.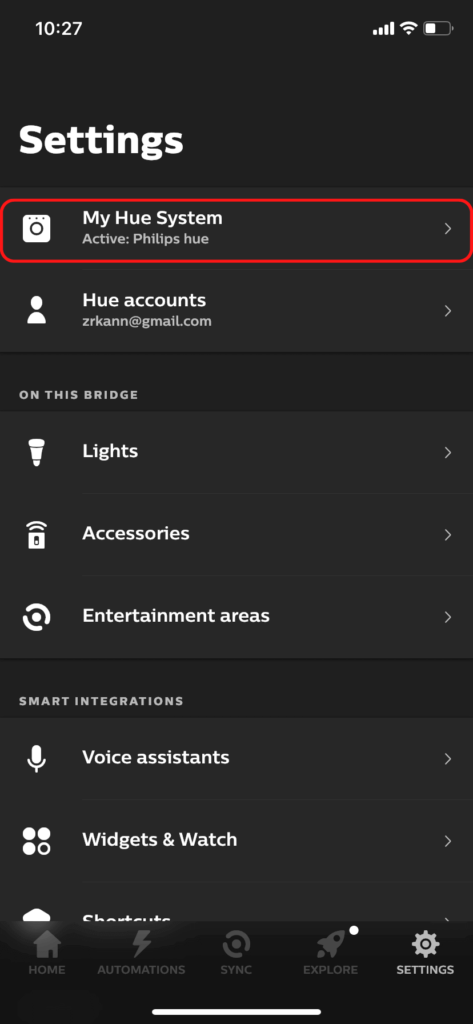 Press the i button by your Hue bridge to bring up the detail page.
You'll see the IP address at the bottom of the info section.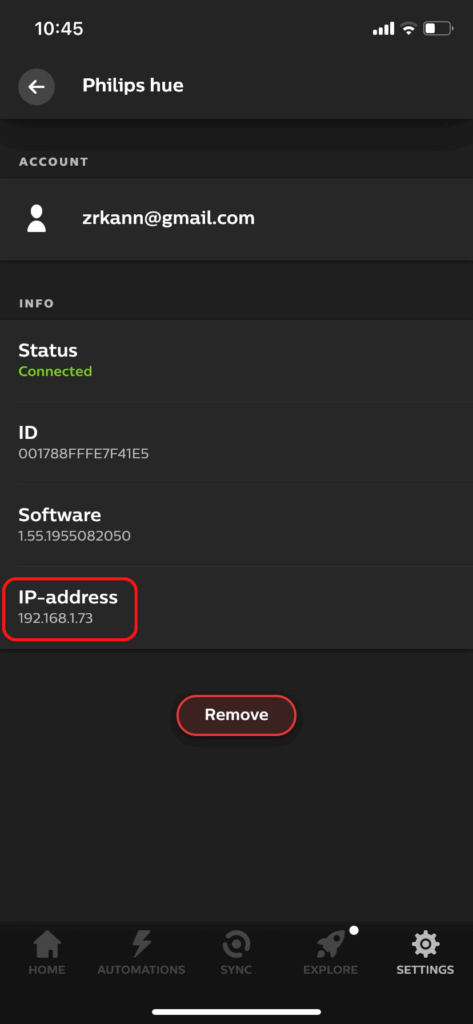 How to Change Your Hue Bridge IP Address
Caution: Do not follow this process unless you understand what you are doing. Otherwise, you will end up factory resetting your Hue bridge to reconnect to it.
You can select a static IP for your Hue bridge just like you can for your home computer. This guarantees that your bridge will always have the same IP address in the future, regardless of what changes with your router.
It can fix problems you might be having with the IP address your router is auto-assigning to your bridge. However, you should generally try restarting your router first, as assigning a static IP can cause its own problems if you don't know what you are doing.
Open the Hue app on your phone.
Go to the Settings tab.
Select Bridge Settings. You'll have to scroll down to find it.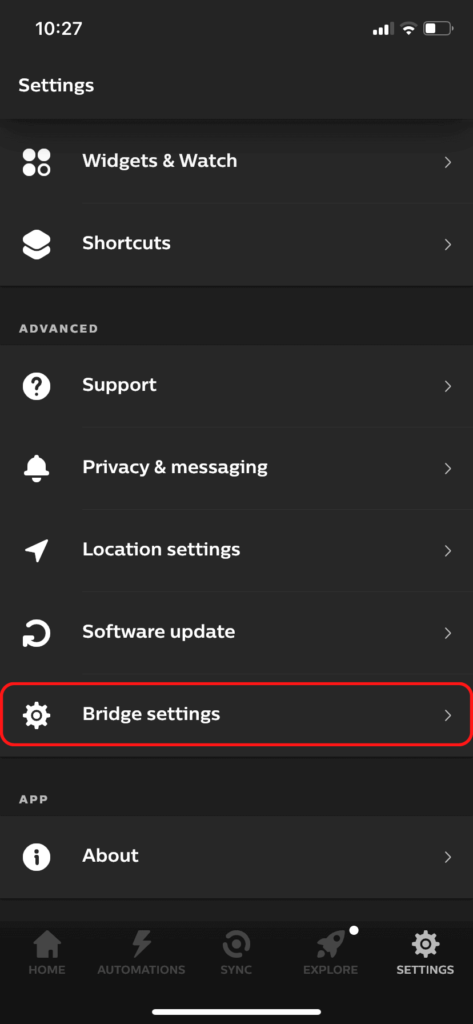 Select Network Settings.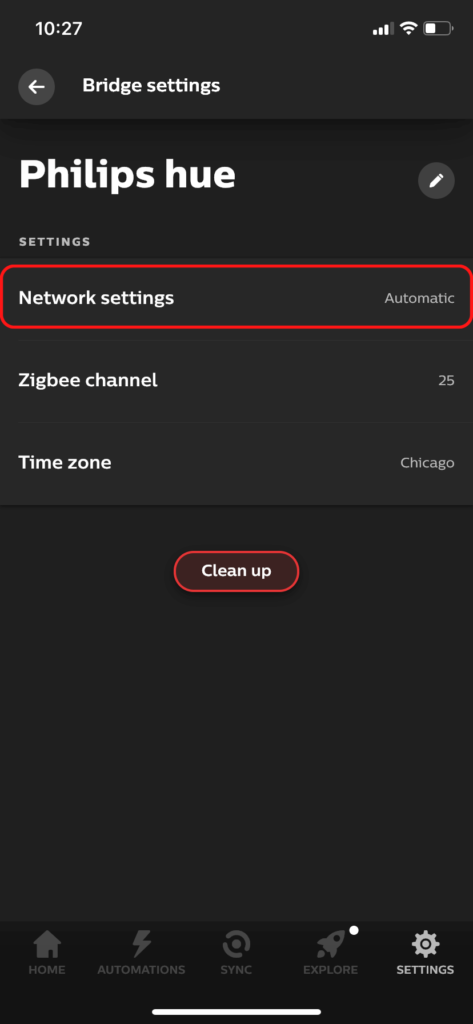 Toggle off DHCP if it's activated. This will change your IP from dynamic to static.
Set the new IP address, netmask (subnet mask, typically 255.255.255.0), and gateway (router IP) for your device. Most likely, you'll only need to change the IP address box.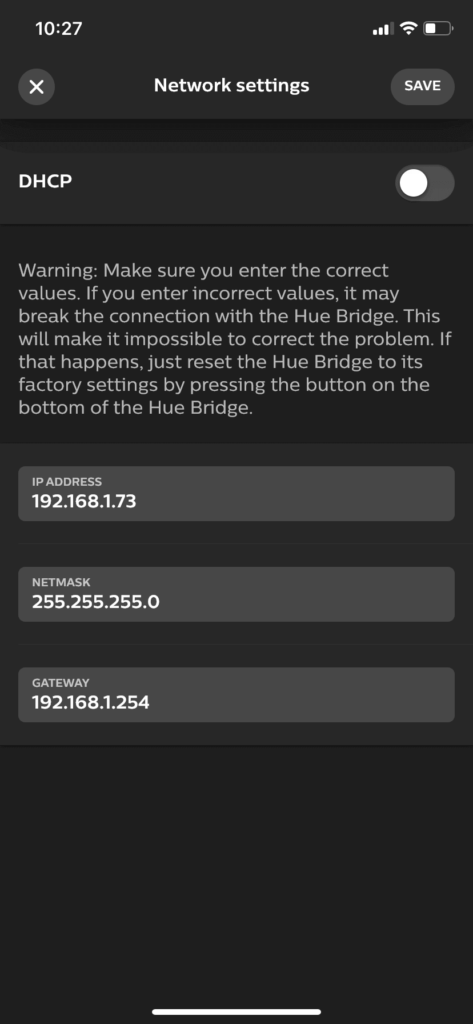 If anything went wrong with that process, follow the instructions in my Hue bridge connection issue guide. Most likely, though, you'll end up factory resetting your bridge.
What's Next?
Are you getting the most out of your Hue lights? You can have Alexa schedule your lights, including setting up custom routines for Hue dynamic scenes. Given how long smart bulbs last, you're going to make use of those routines for a long time.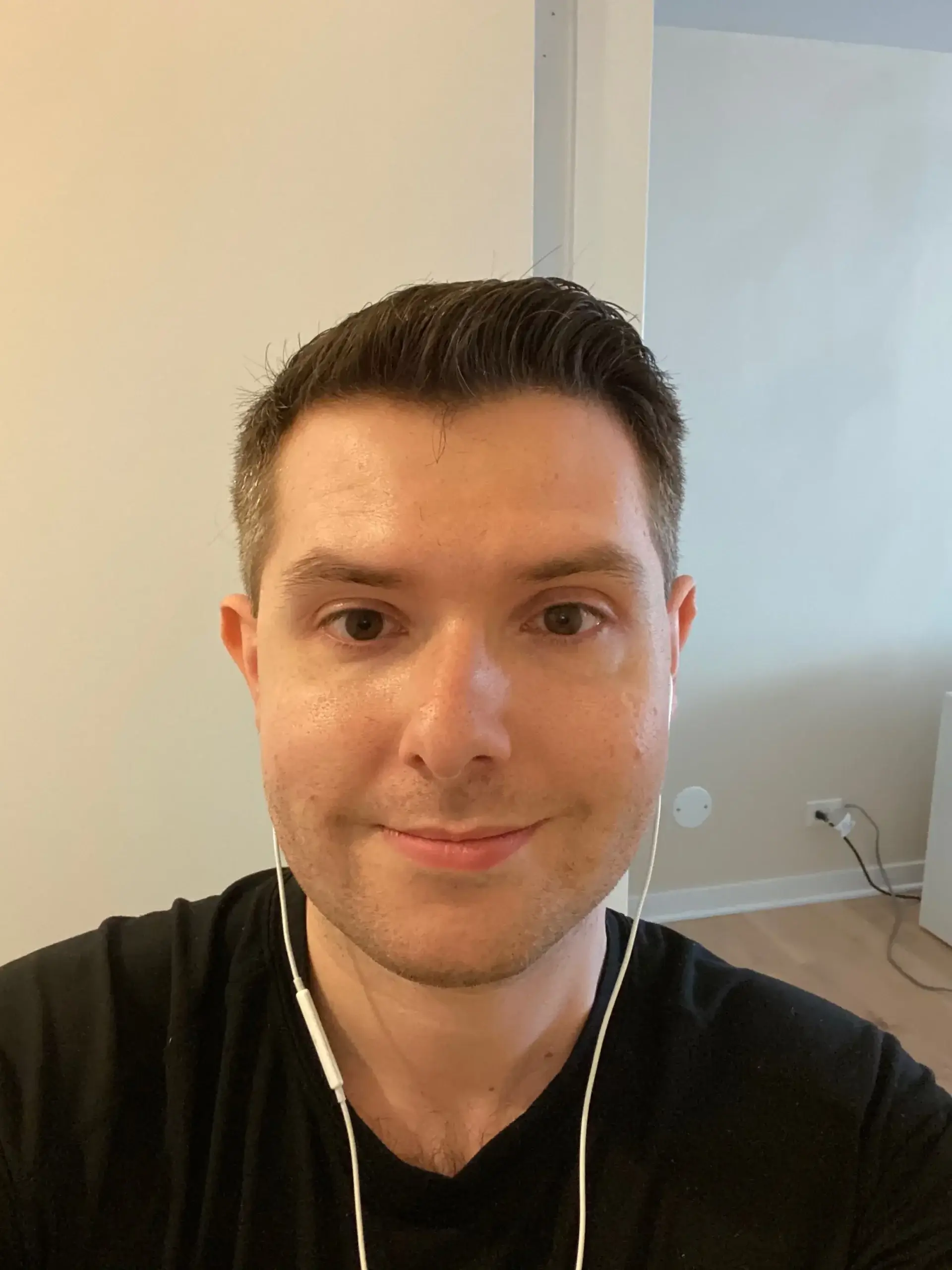 Zak has spent 12 hears in the tech industry focusing on automation, analytics, and cybersecurity. His passion is tech education; he uses his industry expertise and STEM PhD to break down complicated concepts into simple step-by-step guides. When he's not writing or coding, you can find him binging anything Star Trek or Marvel or reading far too many sci-fi novels.