This post may contain affiliate links. Please read my disclosure for more info.
---
Smart TVs are much more affordable than they used to be. But if you're still holding on to an old non-smart TV, you should still get the most out of it. So can you use a Firestick on a non-smart TV?
You can use a Firestick on any TV, even if it's not a smart TV. Firestick just needs an HDMI input, and older TVs can use HDMI adapters if they only have composite or component ports. Firestick is the easiest and cheapest way to get smart features on a non-smart TV.
In this article, I'll explain what you get from using a Firestick on a non-smart TV, show you how to connect your Firestick to your old TV, and even explain what to do if your TV doesn't have HDMI. Let's go!
Do You Need a Smart TV for Firestick?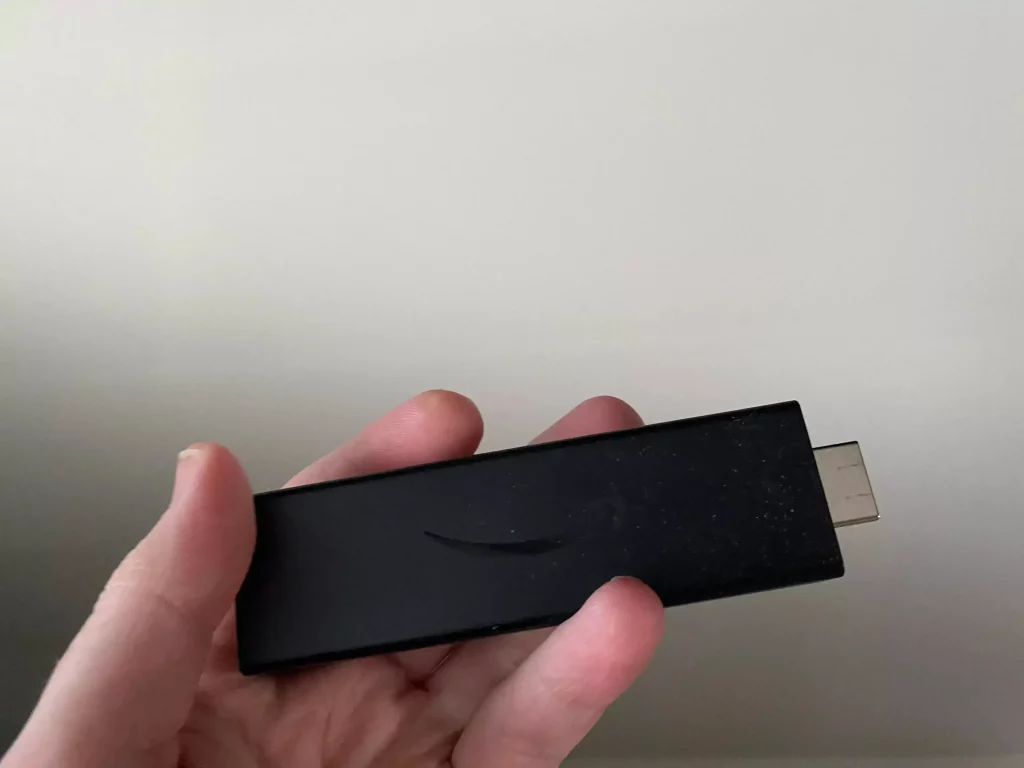 Fire TV Sticks work with non-smart TVs as well as they work with smart TVs. In fact, Firesticks are probably more useful on older TVs than they are on smart TVs. The reason is simple: non-smart TVs don't have access to Netflix or other streaming apps without a streaming device like Firestick.
In general, Firesticks work with any and all TVs. Even if your TV doesn't have an HDMI port, you can connect the Firestick to it via a converter, as we'll discuss later.
The only TVs that you probably shouldn't get a Firestick for are TVs that have Fire OS pre-installed. Android TVs and other smart TVs can take advantage of the ease of use of Fire TV and the Fire TV Alexa voice commands.
By the way, if you haven't bought a Firestick for your TV yet, I suggest just getting the standard Fire TV Stick (this one) since older TVs won't have the 4K resolution required to take advantage of the Fire TV Stick 4K.
How Does a Firestick Work on a Non Smart TV?
Firesticks work a lot like a DVD player or a cable box. They just need a screen to display content on. They don't care if that screen is part of a smart TV or an older TV, as long as there's a way to plug the Firestick in.
There is one key difference between a Firestick and a DVD player, though. Your Firestick won't work without an active internet connection. Make sure that you have a Wi-Fi router before you try to connect your Fire TV. If you only have wired internet, you're going to need a Fire TV ethernet adapter.
How to Connect Firestick to a Normal TV
1. Connect your Fire TV Stick to power
Connect the power cord to the USB plug on your Fire TV stick. Then, connect the other end into the power adapter and plug the power adapter into a wall socket or a power strip.
If your TV has a USB port, you can try connecting the power cord there instead. However, most TV USB ports don't have enough power for the Firestick. It's better to just connect the cord to a wall power outlet.
2. Attach your Firestick to your TV
Plug the Fire TV stick's HDMI connector into an open HDMI port on your TV. In a later section, we'll show you what to do if your TV doesn't have HDMI.
3. Put batteries in your Fire TV remote
The Fire TV remote takes 2 AAA batteries, which should have come with your Firestick. You'll need the remote for the next steps, so go ahead and add the batteries now.
Your remote should auto-pair once the batteries are in. If it doesn't work, just hold the Home button for fifteen seconds to start the pairing process.
4. Turn your TV to the Fire TV's input
Change your TV to the HDMI input that your Firestick is connected to. When you're on the right input, you should see a welcome screen for the Firestick. If you used the instructions for connecting Firestick without HDMI, switch to the component or composite input instead.
You'll probably need your TV remote for this step unless there's an input button on the TV itself.
5. Connect your Firestick to Wi-Fi
You should see on-screen instructions for selecting your Wi-Fi network. Go ahead and select your network and enter your Wi-Fi password. Once the connection works, you'll be able to move onto the next step.
As long as you bought your Firestick new from Amazon, your login information is safe. If you did buy a used Firestick, don't enter any info. Instead, go to the settings page and perform a factory reset of your device. Used Firesticks from untrustworthy sources can have malware, but a factory reset will eliminate any concern.
6. Log in to your Amazon account
The next screen will prompt you to log in with your Amazon username and password. This is required for the Firestick, as it is for most Amazon devices.
Once you're logged in, you should see the Firestick home screen. Go ahead and start streaming—you've earned it!
How to Connect Amazon Firestick to TV Without HDMI
Your old TV might not have an HDMI port. That's okay because the Fire TV Stick can be used with an HDMI converter to connect it to your non-smart TV.
First, identify what plugs your TV has available. Most older TVs should have either composite (three ports: yellow, red, and white) or component (five ports: green, blue, red, and white). Then, you'll need to buy either an HDMI-to-composite converter (like this one) or an HDMI-to-component converter (like this one).
Once you have a converter, just follow the steps in the section above. But instead of connecting the Fire TV Stick directly to your TV, connect it to the converter. Then, connect the converter to the composite or component ports on your TV.
What's Next?
Congratulations! You've used a Firestick to turn your old TV into a smart TV. This is going to open up a whole world of options. Did you know that you can even travel with your Firestick?
Oh, and even if your TV doesn't have Bluetooth, your new Firestick does! That means that you could buy a couple of cheap Echo dots and use them as Bluetooth speakers. That's a great way to enhance the sound of your older TV. And if you really want to go all-out, you could opt for Sonos One speakers instead of those Echo dots since Sonos also has Bluetooth and Alexa. The sky's the limit now that you're on fire.