This post may contain affiliate links. Please read my disclosure for more info.
---
Wires are messy, and they aren't practical for connecting devices across large rooms. Bluetooth is the obvious alternative, but only if your TV supports it. So do smart TVs have Bluetooth?
About 3/4 of smart TVs have full Bluetooth connectivity built-in. Some other TVs have a limited version called Bluetooth LE that doesn't support Bluetooth audio or peripheral devices. Even if your TV doesn't have Bluetooth, you can add it using a Bluetooth transmitter.
In this article, you'll find a list of recent smart TVs that have built-in Bluetooth. I'll also explain what you can do with your TV's Bluetooth, how to tell if your TV already has Bluetooth, and how to add Bluetooth to any TV.
Why Do You Need Bluetooth on a TV?
Bluetooth is the easiest way to connect headphones to your TV. That way, you can crank up your favorite movies without bothering your roommates or neighbors.
Bluetooth is useful for a lot more than just headphones, too. You can use it for audio devices and just about any accessory you can imagine. If you have a couple of extra Alexa devices lying around, you can even connect Echos through Bluetooth to your TV, turning them into free extensions of your speaker network.
Here are a few of the most popular Bluetooth devices for use with smart TVs:
Bluetooth headphones
Bluetooth speakers
Bluetooth soundbars
Bluetooth keyboards
Bluetooth mice
Bluetooth controllers
Bluetooth phones and computers
What TVs Have Bluetooth Built In?
The majority of modern Smart TVs have built-in Bluetooth connectivity. When you purchase a TV on a site like Amazon, they typically give you the option to filter to only Bluetooth-compatible TVs. For the 2021 smart TVs available on Amazon, 3/4 have Bluetooth built-in.
I can't give you an exhaustive list, but here are just a few of the most popular Bluetooth-enabled smart TVs.
How Do I Know if My Smart TV Has Bluetooth?
Since most recent Smart TVs have Bluetooth, yours probably does, too. If you want to be sure, though, here are a few things you can try.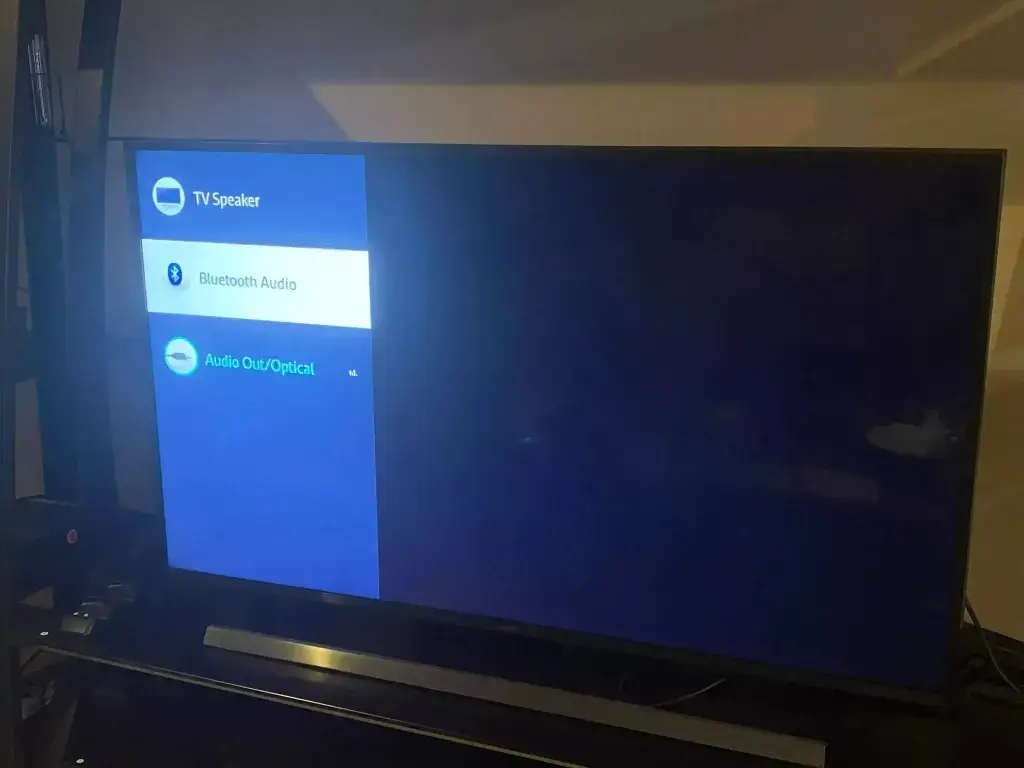 Look on the remote and TV for a Bluetooth logo.
Check the box (if you still have it) for a Bluetooth logo.
Go to the manufacturer's website and look at the product features. Most will list Bluetooth or, in the case of brands like Samsung, they'll laud their Bluetooth remotes.
Open the audio settings on your TV and go to the speakers list (or sound output list). Bluetooth-enabled TVs will usually have an option for "Bluetooth speakers list" or "Connect Bluetooth speaker".
Can You Add Bluetooth to a Smart TV?
You can turn any TV into a Bluetooth-enabled TV by using a Bluetooth transmitter like this one. They're cheap and incredibly easy to install, so they're a good solution regardless of your tech knowledge.
Before you pick a transmitter, take a look at what plugs you have available on your TV. If you have a 3.5 MM jack (the standard headphone plug), you can use this transmitter. If you don't have a headphone jack, Avantree makes a transmitter that has optical, Aux, and RCA inputs.
Frequently Asked Questions
Do Samsung TVs have Bluetooth?
Most Samsung TVs have Bluetooth. This includes all Samsung TVs with smart remotes as those remotes connect via Bluetooth.
You can check whether your Samsung TV has Bluetooth by opening your TV's menu and going to Settings -> Sound -> Sound Output. Look for an entry called Bluetooth Speaker List in that menu. If that exists, your TV has Bluetooth.
What's Next?
Bluetooth isn't strictly necessary for your smart TV, but it is a convenient way to add speakers and accessories. Given the low cost of Bluetooth transmitters, though, you really aren't missing out if you have already bought a smart TV without Bluetooth built-in.
Looking to discover more about your smart TV? Check out my recent article about using a smart TV without an internet connection. And if you want some practical ideas for your home theatre system, my expanded list of smart plug uses includes some ways to make your entertainment setup more convenient and energy-efficient.
Finally, I have to give one other recommendation for you Bluetooth fans. All Fire TV sticks have Bluetooth built-in. When you add one to your TV, you get instant Bluetooth connectivity as well as access to streaming services and usage of Alexa Fire TV voice commands.