This post may contain affiliate links. Please read my disclosure for more info.
---
Old TVs have a lot to learn from Roku, but you need to get them talking to each other first. If you want to get access to all of the Roku Smart TV features on your non-smart TV, you'll need to learn how to connect Roku to a TV without an HDMI port.
In this article, I'll show you how to connect Roku to virtually any TV without HDMI. These steps will work regardless of which Roku you own. And in case you haven't bought a Roku yet, I'll introduce you to the Roku Express+ 2018—the only Roku made to work directly with older TVs.
How Does Roku Connect to Your TV?
All the current Roku devices use HDMI connectors, as have most prior Roku models (with one exception that we'll discuss below).
The Roku Streaming Stick 4K and Streaming Stick 4K+ just plug directly into your TV's HDMI port. The Roku Express 4K, Roku Express 4K+, Roku Ultra, Roku Streambar, and Roku Streambar Pro connect to your TV using an HDMI cable.
For any of these devices, you'll need an open HDMI port, which can be problematic for older TVs—the very TVs that need Roku the most.
What if My TV Doesn't Have an HDMI Port?
You can still connect Roku to your old non-smart TV or any other TV that lacks an HDMI port. You'll just need to purchase an HDMI-to-composite converter or an HDMI-to-component converter. Alternatively, you can buy the Roku Express Plus 2018 model instead of a newer Roku.
HDMI-to-composite converter
Most older TVs should have a composite AV connector, also known as RCA. You can quickly recognize composite connections by the grouping of three ports: one yellow, one white, and one red.
To connect your Roku to these ports, you'll need an HDMI-to-composite converter. I'd recommend this one, but any converter box will do. Just plug the Roku into the converter box and connect the converter box to your TV.
You'll still need to connect your Roku to a power source via the included USB cord. The HDMI port doesn't supply power to your Roku. Just plug the USB cord (or the DC power adaptor for the Ultra) into an outlet using the included AC adaptor or, if that's not available, use any powered USB port.
HDMI-to-component converter
If your TV doesn't have HDMI or composite connections, it likely has a component connection. Component ports look a lot like composite. But there are five of them instead of three, and they are colored green, blue, red, and white.
You can't plug your Roku directly into your TV's component ports, but you can bridge the connection with an HDMI-to-component converter. This is my recommended converter, but really any such converter will work. Your Roku plugs into the HDMI socket on the converter box, and the component cables connect to the appropriately colored ports on your TV.
This converter won't replace the power connection for your Roku, so make sure you plug the USB cable (or the DC power adaptor for the Ultra) into a power source. You should use the included AC adaptor if possible, but you can also directly plug the cord into any powered USB port.
Roku Express Plus 2018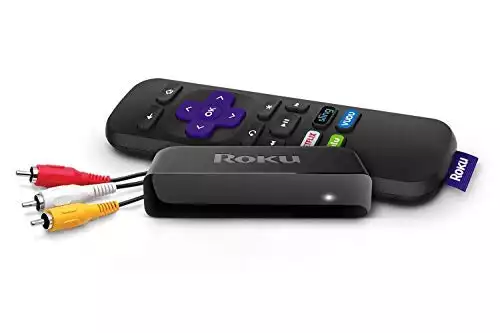 Back in 2018, Roku made a version of the Roku Express+ with a very unusual feature for this day and age: composite cables. This is the one and only Roku that can directly connect to either an HDMI port or your TV's composite ports. Weird, right?
You can still find the Roku Express+ 2018 edition on Amazon, but I can't guarantee it will be on there forever. If you don't want to deal with an extra converter, this is the only option you have left.
Being able to connect your Roku without a converter is convenient, but there's a pretty big downside, too. The Roku Express+ 2018 has poorer performance and fewer features than the newer Rokus. It also tends to sell for more than newer, better models because of its low supply.
For the typical price of that older Roku, you can buy the newest Roku Ultra, a converter, and a couple of months of your favorite streaming service. To me, that sounds like the better deal.
Frequently Asked Questions
Can you connect Roku to a TV with USB?
The USB port on your Roku can't replace an HDMI connection. It supplies power to your Roku and doesn't transmit video or audio. Even if you plug it into a USB port on your TV, it won't work without an HDMI connection or one of the alternatives discussed above.
What's Next?
Now that you've learned how to hook up Roku to a TV without HDMI, it's time to get the most out of your newly smart TV. I'd suggest starting with the basics like Netflix, Hulu, and YouTube, but you'll quickly find your favorite new streaming services and apps.
If Roku isn't doing everything you need, remember that you can always use both Roku and Firestick on one TV. Since most Rokus and even most smart TVs don't have Bluetooth, a Firestick is probably the easiest way to connect your TV to Bluetooth speakers or headphones. And Firestick connects to non-smart TVs using the same HDMI converters, so you don't even need extra equipment.