This post may contain affiliate links. Please read my disclosure for more info.
---
It's hard to debug a device that won't even power up. Fortunately, there are a few tricks you can try when your Alexa won't turn on.
In this guide, you'll learn what to do when your Echo or Echo dot isn't turning on and appears to be broken.
1. Check your Power Cord
Make sure your Echo's cord is snugly connected to both the wall outlet and your Alexa device. Those plugs can easily come loose when you move your device around or if something (like a pet or a Roomba) pulls on the cord.
Echo devices should never be used with non-Amazon power cords. These cords are also not interchangeable between Echo devices as some Echos use 15 watts and others use 30 watts.
You also need to make sure your power cord and adapter are in good condition. Verify that both plugs look undamaged. Check the entire length of the cord for any fraying. If you find anything, stop using that adapter immediately. If the cord looks fine, try it on another compatible Echo device if you can.
If you need a replacement power cord, buy one of these options, depending on which model and generation of Echo you have.
30-watt cord and adapter for Echo (3rd, 4th gen), Echo Show 10 (3rd gen), Echo Show (2nd gen), Echo Show 8, or Echo Plus (2nd gen)
15-watt cord and adapter for Echo Dot (3rd, 4th gen), Echo Dot with clock (3rd, 4th gen), Echo Dot kids edition (3rd, 4th gen), Echo Show 5, Echo Spot, or Fire TV Cube.
2. Test the Power Outlet
Every home has that one outlet that, for whatever reason, just doesn't seem to work right. Sometimes it's completely busted. Other times, it's just controlled by an unmarked light switch halfway across the room. Either way, it's best to check the outlet before we waste time debugging your Echo.
You can also test your outlet with an outlet tester, a lamp, or any simple electronic device. You could also try plugging Alexa into a different power outlet. If it turns on at that point, the original outlet is almost certainly to blame.
3. Power Cycle Your Echo
This fix is incredibly quick and easy, and there's no downside to trying it. As with any electronic, sometimes Alexa has random glitches and needs to be rebooted. The easiest way to do that is by unplugging it and plugging it back in.
Unplug your Echo.
Wait 10 seconds.
Plug it back in.
Then wait several seconds to see if Alexa turns on.
4. Contact Amazon Support
That's everything you can try by yourself. If none of those worked, your final action should be to turn to tech support. The Alexa app has an easy way to get in touch with them.
You can find it under More -> Help & Feedback. The Speak with a representative link will give you an option to receive a call immediately from Amazon support. And they do mean immediately.
Support will likely walk you through some of the same steps we tried above. There's no harm in repeating these steps, so just follow their instructions. They have access to some device diagnostics and logs that you and I can't access, so it's best to just let them take the lead.
5. Replace Your Echo
Electronics don't last forever. Amazon devices come with limited warranties in case of defects. These warranties last 90 days or one year for most Echo devices, although the Echo Show 5 Kids edition has a shockingly-long two-year warranty.
For Alexa devices within their warranty period, you have a good chance of getting a free replacement. Of course, that assumes the problem is due to a defect rather than damage from, say, a fall or contact with water.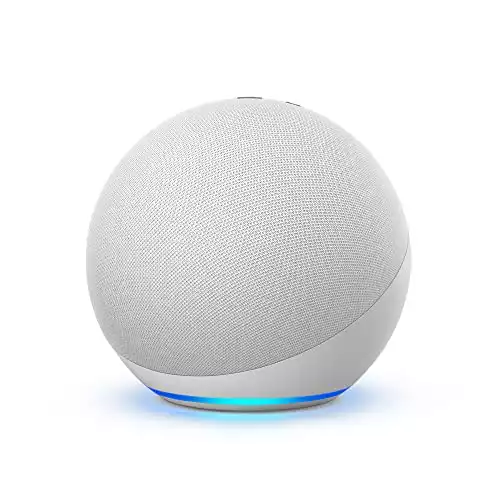 Even if you have to replace your Echo, the low cost of most Alexa devices certainly helps. And there are new Echos coming out all the time, so this can be a great chance to upgrade to the new 5th-generation Echo Dot, 4th-generation Echo, or Echo Show 15.
What's Next?
Whether you got your Echo working or found a cool new replacement, every Alexa setup deserves enhancements. For music fans, that could mean setting up Alexa for Soundcloud or playing iHeartRadio stations on Echo. For gamers, maybe it means connecting Alexa to your PS5.
I've recently been using Alexa to listen to other rooms instead of investigating noises myself. That's a definite time saver. And, on the more fun side of things, there are tons of Echo easter eggs to discover, like the famous Super Alexa mode.